Pump Heat Protection
$39.00 AUD
Don't let your straightening iron, curling wand or blow dryer ruin your hair anymore! Introducing the latest in technology to create heat protection. The Pump Heat Protection has a tropical smell to die for and creates a gloss feel on your hair. A must-have for anyone using heat on their hair.
What does heat do to your hair?
Can break the S-S or disulphide bonds within hair strands that give hair its strength
Damages protein in the hair shaft
Make your cuticles completely dry
Fade your hair colour
How to Use

Prior to blow-drying or heat styling, spray evenly over towel-dried hair hair. Apply over dry hair by spraying onto your hands and rubbing together, then applying to your hair mid-length to ends, to reduce frizz and add shine. Provides heat protection against hot tools and blowdrying.

200ml, 6.76 fl oz



Tash's Tips

This ulta smoothing heat protectant spray can also help tame flyaways and frizz
Ingredients

Aqua (Water), Butyloctanol, Quaternium-16, Undeceth-11, Undeceth-5, PEG-12 Dimethicone, Polysorbate 20, Panthenol, Hydrolyzed Adansonia Digitata Seed Extract, Sodium Laneth-40 Maleate/- Styrene Sulfonate Copolymer, Hydrolyzed Corn Starch, Beta Vulgaris (Beet) Root Extract, Biotin, Passiflora Edulis Seed Oil*, Vitis Vinifera (Grape) Seed Oil, Fragrance, Caprylhydroxamic Acid, Caprylyl Glycol, Glycerin. *Organic Ingredients.
Shipping Info

All orders are shipped on the same day you place the order, if ordered before 3pm AEST.
Don't let heat ruin your hair anymore!
Just a few sprays before using heat styling can save you from dry, fried, damaged hair.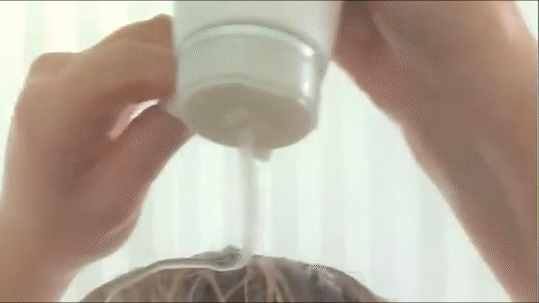 Watch and Learn
Lather a small amount of shampoo into your roots, feel the hydrating, coconut formula cleansing your scalp!
Heat Protectant For Dry Hair
No matter your hair type, all hair is susceptible to heat damage caused by environmental stressors, hot showers, blow dryers or heat styling tools. It is essential to protect your luscious locks from becoming dry or brittle, and there is no better way to do that than through a heat-protectant product. Our Pump Heat protection is just the juicy goodness your dry hair needs to keep your hair protected and texture intact!
What should you look for when buying heat protectants for dry hair?
When choosing a heat protectant for dry hair, it's essential to consider several crucial factors to ensure the product effectively protects your hair without exacerbating dryness. Regardless of your hair type, these considerations play a vital role in maintaining the health and moisture balance of your hair.
Here are the key considerations:
Heat-Resistant Ingredients: Look for ingredients that can withstand high temperatures without losing their beneficial properties. Checking the product label for the maximum tolerated temperature can help you find a heat protectant that suits your specific heat-styling tools. 
Moisturising and nourishing formulas: Opt for heat protectants containing moisturising and deeply nourishing ingredients. These components will create a protective barrier around your dry hair, while simultaneously drawing moisture back into the hair shaft, restoring its hydration levels. 
Alcohol-Free Formula: Avoid products with alcohol, as it can be incredibly drying to your hair. At Pump, we take pride in our alcohol-free heat protection spray, ensuring your hair remains well-hydrated and protected.
Suitable for All Hair Types: Consider a heat protectant that caters to all hair types, including treated hair. Our heat protectant for dry hair is specially formulated with deeply nourishing ingredients that won't disrupt your hair's texture or colour, making it suitable for everyone.
By taking these factors into account, you can confidently choose a heat protectant that effectively shields your dry hair from heat damage while promoting its overall health and moisture retention. Our Pump Heat Protection Spray is meticulously crafted to meet these criteria, providing optimal care and protection for all hair types, leaving your hair nourished, hydrated, and beautifully styled.
Star Ingredients 
We carefully selected the finest oils and extracts to create our heat protectant for dry hair, designed to shield your hair from heat damage while providing essential nourishment and protection. Combined, these top three ingredients work harmoniously to ensure your hair receives the utmost care and protection against heat-induced damage, while also enhancing its overall health and vitality. With our Pump Heat Protection Spray, you can confidently style your hair knowing it's shielded and well-nourished throughout the heat styling process. 
Here's a breakdown of the benefits each ingredient brings:
Grape Seed Oil (aka Vitis Vinifera) 
Grape seed oil has a high smoke point meaning it can shield your hair from high temperatures without breaking down through forming a protective barrier, making it an essential ingredient in a heat protectant for dry hair. It is also rich in vitamin E and proanthocyanidins that gently nourish and smooth the cuticles, protecting your hair from becoming dry and brittle during heat styling. 
Baobab Seed Extract (aka Hydrolyzed Adansonia Digitata Seed Extract )
Baobab seed extract is a lightweight, antioxidant-rich oil that deeply nourishes and shields your hair from oxidative stress caused by heat styling or environmental stressors. It is ideal as a heat protectant for dry hair as it is well tolerated by all hair types and hair textures. 
Passionfruit Seed Oil (aka Passiflora Edulis Seed Oil)
Passionfruit seed oil is high in essential fatty linoleic acid which helps to strengthen the hair strands by forming a protective barrier around it, shielding your hair from heat damage. It acts as a natural emollient, sealing in any split ends in the hair cuticles, helping to reduce porosity and retain moisture levels. This is essential when using heat-styling tools or blow dryers to protect your hair from heat damage. 
Recommendations for dry hair
In your journey towards maintaining a healthy hair care routine, using a heat protectant is just one of the essential steps. Ensuring the well-being of your hair involves various key practices:
Minimise Heat Exposure: Using the lower heat settings on styling tools, washing your hair with lukewarm water and minimising UV exposure will help your hair from drying out. 
Choose Hydrating Shampoos and Conditioners: To provide your hair with the necessary moisture and care, opt for hydrating shampoos and conditioners. These products nourish and support your hair, keeping it well-hydrated and resilient. These are some of our favourites for dry hair. 
Incorporate Deep Conditioning: Regularly indulge in deep conditioning treatments to provide your hair with intense hydration and repair. Leave-in conditioners strengthen and revitalise your hair, contributing to its overall health.
Don't fret if you're uncertain about the best hair care products for your specific needs. Our hair quiz is designed to offer personalised recommendations tailored precisely to your unique hair type and requirements. 
By following these fundamental steps and incorporating a heat-protectant product, you can cultivate a comprehensive hair care routine that ensures the happiness and health of your hair. 
Read
These ingredients find themselves on our Block-list
Real People, Real Results
Needing some haircare inspiration? Click and hold to see the before image.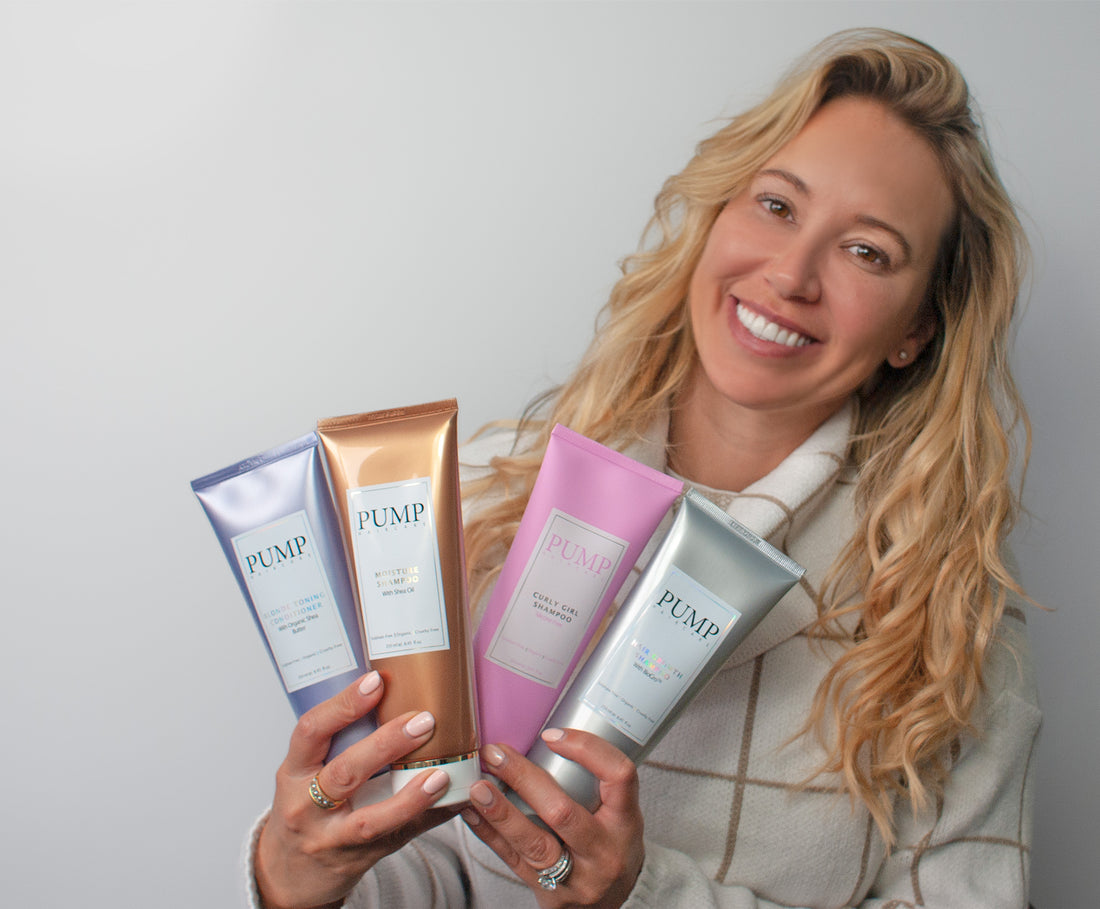 Need help choosing?
Take our hair quiz to get custom recommendations from Pump founder and hair guru, Tash!
Help me choose
Where to next?
Looking for more natural haircare? Find it here!