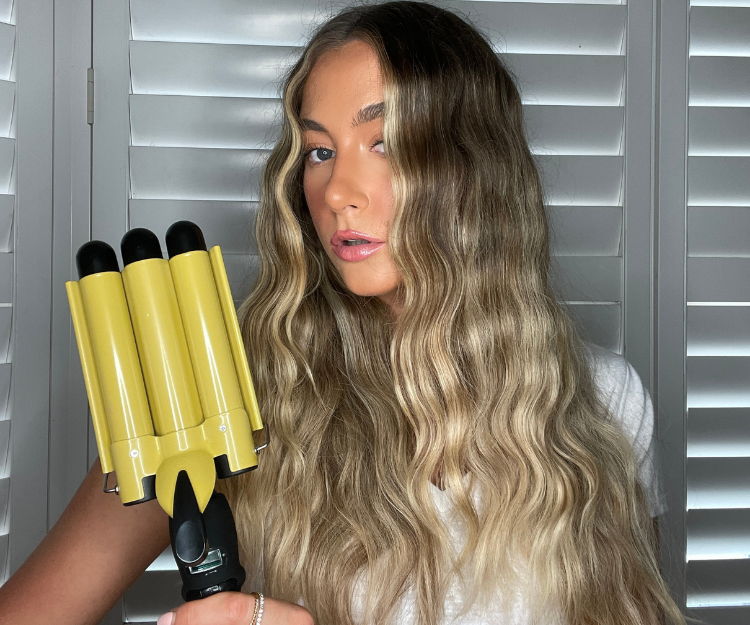 Hair Styling Products 
We understand that your hair is a crucial part of your appearance, and that's why we offer a range of hair products for styling that not only help you achieve your desired hairstyle but also to nourish and protect your hair. Our selection of Pump products targets different hair types and goals, whether you're wanting to add volume, texture, hold your curls in place or simply to add shine. Each of our hair styling products contains ingredients to repair hair and prevent further damage. At Pump Haircare, we believe that using the right hair products for styling can enhance your overall appearance and boost your confidence, making them an essential part of any hair care routine!
Our Recommendations
Each of our hair styling products targets different hair goals and is suited for different hair types, which is why we'll go through our product selection and discuss the benefits of each. 
Hair Spray 
Hair Spray is used to hold the hair in place and is typically sprayed onto hair after styling to keep it in place throughout the day. It can also be used to add volume, texture and shine to hair. We offer different types of hair sprays, including the Pump Texture Hold Hair Spray, Pump Thickening Hair Spray and Pump Ocean Waves Hair Spray, each with its own unique benefits.
Pump Texture Hold Hair Spray
The Pump Texture Hold Hair Spray is formulated with an innovative blend of ingredients that work together to provide long-lasting hold and texture to the hair. One of the key ingredients is Chia Seed Oil, which promotes healthy hair growth by reducing breakage, all the while nourishing and strengthening your hair. Another important ingredient is Panthenol, which deeply moisturises and conditions the hair. Together, these ingredients make for a hairspray that provides a medium hold that lasts throughout the day. The spray is easy to use and can be applied to dry or wet hair, making it a versatile product that can be used for a variety of styles! The Pump Texture Hold Hair Spray is a great choice if you're looking for a stronghold hairspray without the crunchy feeling to use for any occasion!
Pump Thickening Hair Spray
The Pump Thickening Hair Spray can transform lifeless hair into a voluminous and fuller-looking mane! Formulated with natural ingredients, it contains Rice Protein that strengthens and thickens hair strands, filling in gaps and weak spots for stronger and healthier hair. Nettle Extract, another key ingredient, is a natural astringent that reduces scalp inflammation and irritation while providing essential vitamins and minerals for healthy hair growth. The Pump Thickening Hair Spray is a great styling product, all the while improving overall hair health, making it a must-have in your hair care routine.
Pump Ocean Waves Hair Spray
The Pump Ocean Waves Hair Spray gives you beachy waves without the damaging effects of sea salt or the sun. It contains Coconut Oil, which is a deeply moisturising ingredient that effectively conditions the hair. Pineapple Fruit Extract is rich in vitamin C, which strengthens hair and promotes healthy hair growth by exfoliating the scalp. Avocado Oil, rich in vitamins A, D, and E, nourishes, hydrates, and restores moisture and shine to dry or damaged hair. Another powerhouse ingredient, Aloe Leaf Juice Powder, soothes the scalp, reduces inflammation and prevents breakage. This beachy hair spray is an ideal option for achieving wavy hair while nourishing and protecting your hair with our combination of natural ingredients.
Hair Foam
Hair foam is designed to add volume and texture to hair. It comes in a canister and is dispensed as a foam that can be worked through damp or dry hair. Hair foam can also contain conditioning agents to help improve the overall health and appearance of hair, which makes it great for creating hairstyles such as curls, waves and updos.
Pump Whip It Hair Foam
The Pump Whip It Hair Foam defines your curls with an active combination of ingredients including Jojoba Protein, Rice Amino Acids, Kale Protein, and Nettle Leaf Extract. Jojoba protein nourishes and strengthens hair, while also providing moisture and shine. Rice Amino Acids strengthen and protect the hair, while also providing volume and hold. Kale Protein is rich in antioxidants and essential nutrients, protecting the hair from environmental damage and promoting healthy hair growth. Nettle Leaf Extract provides soothing and nourishing effects on the scalp by lessening inflammation and irritation which might potentially be caused by improper hair care practices. This lightweight hair foam is the perfect choice for anyone looking to achieve beautiful hair with extra nourishment.
Hair Powder
Hair powder is a finely ground powder made from minerals and starches that is applied to the roots of the hair to absorb excess oil and give the hair a fuller appearance. It adds grip and hold to hair, making it easier to style and manipulate. It is often used as an alternative to traditional hair styling products such as hairspray or gel and is suited for fine or thinning hair types.
Pump Thickening Powder 
The Pump Thickening Powder is gentle on the hair, easy to use and adds extra volume, thickness and life to otherwise fine or thin hair. One of its ingredients, Silica, serves to absorb excess oil and moisture, fortifying hair in the process. Cornstarch makes hair easier to style by adding grip, giving the hair a matte appearance in the process. Vitamin C Powder is a powerful hair-protecting antioxidant that supports hair growth and collagen production. Simply shake the Pump Thickening Powder onto dry hair roots and massage in with fingertips for a fuller look that lasts all day. 
Heat Protection
Heat protection spray works by creating a barrier between the hair and the heat, thereby reducing the amount of damage that occurs. It contains ingredients that help to lock in moisture and prevent the hair from becoming dry and brittle. Using a heat protection spray before heat styling can help to keep the hair healthy, shiny and strong. It is an essential product for anyone who regularly uses heat styling tools on their hair.
Pump Heat Protection Spray
The Pump Heat Protection Spray contains high-quality ingredients such as Beetroot Extract, an antioxidant-rich ingredient that protects the hair from environmental damage. Biotin is included for its benefits in promoting healthy hair growth, strengthening the hair and making it less susceptible to heat damage. Organic Maracuja oil nourishes and protects the hair, reducing frizz and improving hair texture. Grape Seed Oil is the last star ingredient. Its antioxidants protect the hair from environmental damage by replenishing moisture to hair strands. These ingredients work together to leave hair revitalized, silky and soft.
Hair Serums
Hair serums are lightweight, silicone-based liquids that are applied to the hair to smooth frizz, add shine and protect against heat damage from styling tools. Hair serums are typically used on damp hair before blow-drying or on dry hair to tame flyaways and add glossiness. They can also be used to protect the hair from harmful environmental factors such as sun exposure and pollution.
Pump Frizz No More Serum
The Pump Frizz No More Serum contains natural ingredients that work together to nourish and protect the hair while also providing anti-frizz benefits. One of the key ingredients is Chia Seed Oil, which is a rich source of omega-3 fatty acids that nourish the hair from the inside out. Hydrolysed Jojoba Protein is another important ingredient that helps to repair damaged hair and reduce frizz, while organic Crambe Abyssinica Glycerine smooths the hair cuticle and boosts growth. Organic Cucumber Fruit Extract soothes and hydrates the hair, leaving it looking smooth, shiny and healthy. If you're looking for a hair serum to reduce frizz, why not try out this serum!
For Textured Hair Types
Styling products are helpful for textured hair types because they can help to define and enhance the natural texture of the hair. Textured hair types, such as curly or coily hair, can often be prone to frizz, dryness and breakage. Choosing styling products specifically made for textured hair can help to combat these issues by providing moisture, hold and protection to the hair. 
Pump Soft Curl Gel
The Pump Soft Curl Gel enhances your natural curls while providing a soft, flexible hold. Our ingredients nourish and protect the hair, one of which includes Coconut Oil, a natural emollient rich in fatty acids and vitamins, which works to protect the hair against environmental stressors. Hydrolysed Quinoa is a protein-rich grain which improves hair elasticity and provides a protective barrier against heat and other environmental aggressors. Together, these ingredients nourish and protect hair, enhance natural curls and provide a soft, flexible hold that lasts all day.
Pump Curl Activating Milk
The Pump Curl Activating Milk uses a variety of natural ingredients to enhance and define curls. It contains Rice Milk, a natural emollient that moisturises and softens hair, while also strengthening strands with its proteins. This ingredient helps to reduce frizz and define curls, leaving hair looking shiny, healthy and bouncy. Another key ingredient is Castor Oil, its richness in fatty acids making it the perfect anti-inflammatory choice for curly hair prone to dryness and breakage. With the Pump Curl Activating Milk, you can achieve soft, defined curls no matter your hair type, from loose waves to tight coils!
Pump Spring Back Curls - Day 2 
The Pump Spring Back Curls - Day 2 is formulated with ingredients to maintain and enhance your curls on the second day after washing. Neem Oil, derived from the neem tree, soothes the scalp and strengthens hair follicles while preventing dandruff and other unruly scalp conditions. Castor Oil, extracted from the castor plant, nourishes and hydrates hair while reducing frizz and adding shine. To use, apply a small amount to hair and scrunch with your hands to enhance curls or refresh on the second day. With regular use, Pump Spring Back Curls - Day 2 keeps curly hair looking its best while providing intense nourishment to the hair.
Hair Cream
Hair cream is typically used to add texture, shine and hold to hair, and is especially suited for those with a textured hair type! It is typically a thick, creamy substance that is applied to hair then styled using a comb or brush. Our hair creams are great for those with curly or textured hair, as they contain ingredients to nourish and protect the hair while providing hold and other benefits.
Pump Curly Girl 2 in 1 Define and Repair Cream
The Pump Curly Girl 2 in 1 Define and Repair Cream is specifically designed for curly hair and contains ingredients like Organic Argan Oil, Olive Oil, Chamomile Flower Extract, and Organic Cocoa Butter that work together to define curls, repair damage and nourish hair. Argan Oil provides hydration, while olive oil reduces frizz and conditions hair. Organic cocoa butter moisturises, softens and protects hair from damage. This hair cream is an excellent choice if you have curly hair and want to keep your hair healthy, bouncy and lustrous.
We also have a Blonde Edition which is great if you have natural or colour-treated blonde curly hair! This hair cream has violet pigments to tone and remove brassiness, leaving your blonde locks looking vibrant and shiny.
Dry Shampoo
Dry shampoo is a type of hair product that is designed to clean hair without the use of water. It typically comes in a powder or spray form and is applied directly to the roots of the hair. This works by absorbing excess oil and dirt from the scalp, leaving the hair looking and feeling refreshed. It is often used as a quick fix for greasy or oily hair, or as a way to extend the time between washes. 
Pump Refresh Dry Shampoo
The Pump Refresh Dry Shampoo helps to refresh your hair between washes, or simply use to extend the life of your blowout. It contains natural ingredients such as Rice Powder, which is a natural absorbent that helps to soak up excess oil and sebum from the scalp and hair. Chia Seed Oil is rich in omega-3 fatty acids and is added in the formulation to preserve natural oils in the hair.
Have blonde hair? Our Blonde Lift Dry Shampoo is suited for blonde hair types as this product tones and brightens blonde hair, all with the same brilliant properties as our Pump Refresh Dry Shampoo!
At Pump, we understand every hair type is unique and will require different styling approaches. With our diverse range of hair styling products, you no longer have to sacrifice hair health to achieve different looks. For your best hair yet, use our styling products with our range of hair care accessories. For more Pump, you can check out our full range of products here.
Read