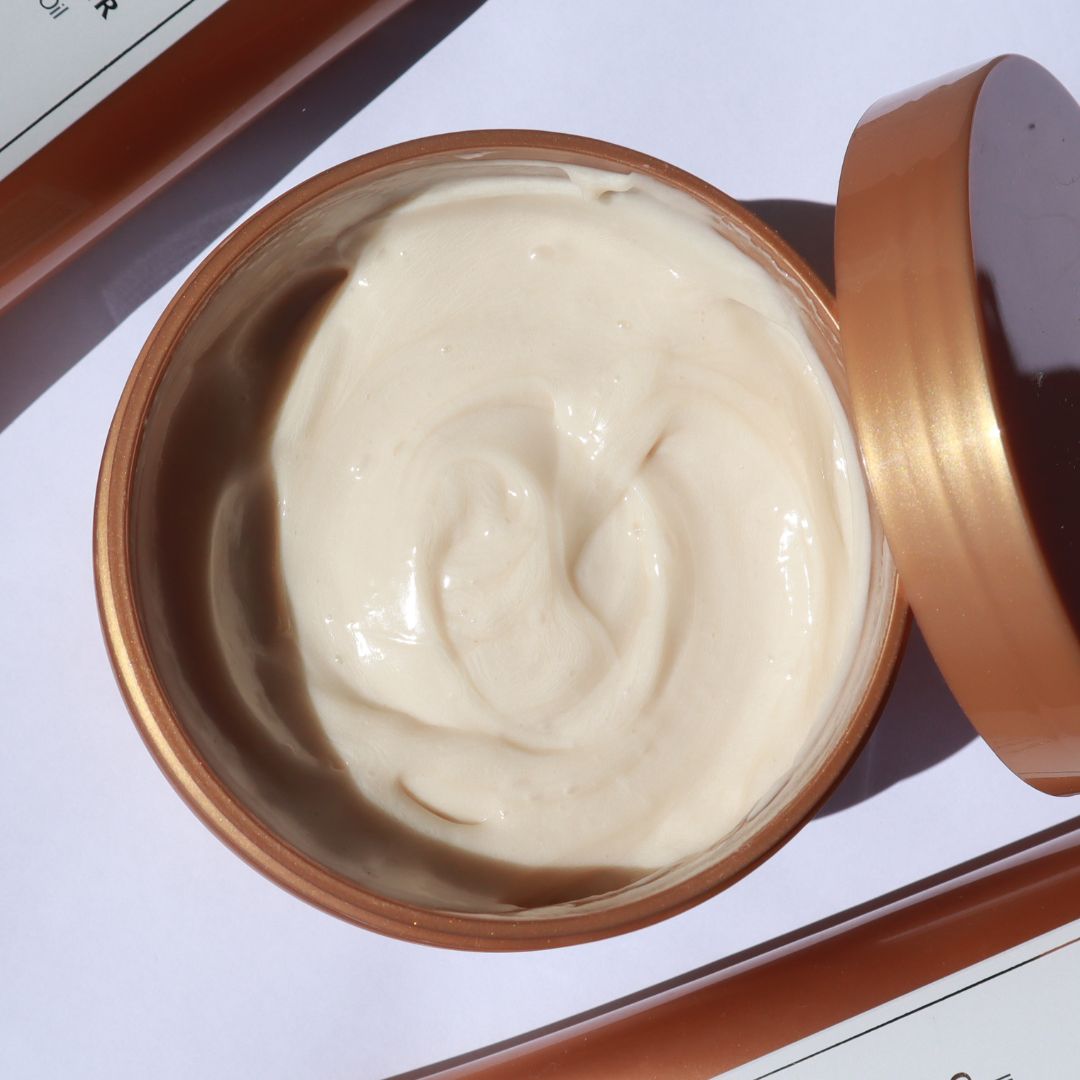 Hair Masks
Welcome to Pump Hair Care's hair mask collection! We pride ourselves on providing premium, natural, and innovative products that cater to your unique hair needs. In this comprehensive guide, we'll explore the world of hair masks, delving into the distinctive benefits of various ingredients and formulas tailored for specific hair types. We're ready to help you discover the perfect hair mask that will unlock your hair's fullest, bounciest, and most radiant potential.
Hair Masks Suited For Different Hair Types
Taking care of your hair can be challenging and time-consuming, with regular styling, colouring, or bleaching, heat, and general upkeep. Fortunately, we have a range of treatments to keep your hair healthy when you're feeling overwhelmed or need an extra boost here and there. Our hair masks are rich in moisture and have many hair-strengthening benefits. With a wide variety of no-nasty formulas, we have a mask for your hair type and concerns.

If you have dry hair, you'll need a hair mask that is deep conditioning to restore moisture and minimisze breakage. If you have oily hair, you'll require a lightweight mask with natural ingredients to retain moisture and alleviate any symptoms. If you have curly hair, you might look for nourishing masks that replenish moisture with formulas that target frizz and enhance your natural curl pattern. No matter your needs, our collection has something for everyone.
Hair Masks for Chemically-Treated or Coloured Hair
We highly recommend using a hair mask if you have coloured or chemically treated hair. Given the need for extra care and protection to maintain your hair colour and lustre, finding a hair mask that provides intense nourishment and moisturizes the hair will help repair past damage and protect your hair from any potential damage. When looking for a hair mask for particularly damaged or coloured hair, natural ingredients are much softer than harsh chemical products.
Ingredients To Look For in Hair Masks
Fine And Thin Hair
If you have thin or fine hair, you'll want to avoid hair care products that will weigh your hair down. This means avoiding treatments that are too thick in consistency or rich in texture. Instead, choose a hair mask that has lightweight hydrating ingredients such as coconut oil, jojoba oil, or almond oil to rejuvenate your hair. 
Thick Hair
If your hair is thick, coarse, or curly, then you'll need a mask that is rich and heavy with natural ingredients that will soften your hair and leave it shiny. Look for ingredients like coconut oil, shea butter, avocado oil, or almond oil that hydrate and smooth your thick hair.
Hair Loss
If your hair tends to fall out faster than normal, your roots and scalp are weak and need extra nourishment to reduce further hair loss. Look for a hair mask that can restore moisture to your hair. Using hair masks with a wide range of natural ingredients like avocado, coconut oil, eggs, and honey can encourage new hair growth, thus reducing hair fall.
Dry And Damaged Hair
If you struggle with brittle, dry hair that is damaged or lacks moisture from over-processing, we recommend trying a mask that boosts your natural oil production and promotes a healthier scalp. A protein-rich mask will strengthen the hair shaft and restore shine to your hair. Additionally, finding ingredients like hyaluronic acid, shea butter, fruit oils, and keratin will rejuvenate, repair, and rebuild the elasticity of your hair.
The Difference Between Hair Masks And Conditioners
While conditioners are formulated to provide a quick boost of hydration, detangle, and protect hair from daily wear and tear, hair masks offer a deeper, more intensive treatment. Hair masks penetrate the hair shaft, delivering a concentrated dose of nutrients and hydration to nourish, repair, and revitalize your locks more intensely. Designed to be used once or twice a week, hair masks can provide long-lasting benefits that extend beyond the lasting power of conditioners.
The Pump Hair Masks
Nourish Blonde & Treated Hair
Specially created for blonde and colour-treated hair, our Pump Blonde Hair Mask is designed to neutralize brassy tones while nourishing and protecting your locks. Infused with violet pigments and a unique blend of hydrating and moisture-locking ingredients like Aloe Barbadensis Leaf Extract, Macadamia Ternifolia Seed Oil, and Argania Spinosa Kernel Oil. This mask helps maintain the vibrancy of your colour while providing essential moisture and shine with Citric Acid helping to remove buildup and keep your blonde hair feeling fresh.
Enhancing Healthy Hair Growth
Hair masks are extremely beneficial for encouraging healthy hair growth, as the ingredients in the product can penetrate deep into your scalp and help stimulate hair follicles. The Pump Hair Growth Mask is a game-changing treatment that helps improve hair growth by  strengthening your strands from root to tip. Packed with natural ingredients, this powerful mask fortifies and revitalizes your hair, improving length and thickness.
Strengthen Your Curls
If you have curly hair, the Pump Curl and Grow Mask is a nutrient-rich mask that deeply hydrates and strengthens your locks, supporting your curls' natural shape and bounce. With ingredients like Hydrolyzed Soy Protein that helps to strengthen and protect, pro-vitamin B5 to add shine, Macadamia Ternifolia Seed Oil a lightweight moisturiser and Jojoba Seed Oil a softener and conditioner. By nourishing your hair from within, our Curl and Grow Mask helps you achieve the defined, luscious curls you've always wanted.
Volumise
If you are looking for new levels of volume and density, our Pump Thickening Mask is the go-to. This organic formula is designed to plump and strengthen your hair, giving it a fuller appearance without weighing it down. Harnessing the power of botanical extracts and nourishing oils, our Thickening Mask provides your hair with the boost it needs to achieve a voluminous look.
Repairs The Damage
Damaged hair can be caused by bleach, hair dye, chemical treatments, environmental pollutants and a range of other things. Damaged hair calls for intensive treatment, and our Pump Repair Mask is precisely that. This Jojoba Seed Oil treatment penetrates deep into the hair shaft, delivering a potent blend of nutrients and hydrating ingredients like shea butter to repair and restore your hair's health. The Hydrolyzed Soy Protein, Argania Spinosa Kernel Oil, Avocado Oil and other ingredients condition, repair and protect, improve elasticity and overall health.
Tame Frizz
If you struggle with frizzy hair, hair masks can help detangle and smoothen your hair, resulting in knot-free, frizz-free, sleek, shiny, and more manageable hair. The Pump Anti Frizz Gloss Mask is suitable for thick, frizzy and dull hair. Infused with nourishing oils and botanical extracts, like Argania Spinosa Kernel Oil, Jojoba Seed Oil and Avocado Oil. It's formulated conditioning agents like  Behentrimonium Methosulfate and Cetrimonium Chloride that help reduce frizz and improve manageability by smoothing the hair cuticle, improving its texture.
Extra Tips and Advice
To ensure you get the results you're looking for with our Pump Hair Masks, make sure to read and follow the instructions carefully. Use your hair mask once a week in place of conditioner after washing your hair with shampoo, and apply the product from roots to ends. Leave the hair mask for a minimum of 10 minutes before rinsing with water. Rinse your hair thoroughly with cold water to seal the cuticle and lock in moisture from your hair mask. This way, your hair will be left looking hydrated, shiny and frizz-free!
When your hair is feeling dry and dull leave your Pump Hair Mask overnight for an intense treatment. Rinse it out in the morning and you'll feel the results, with your hair looking fuller and healthier. 
If you have any questions regarding our hair mask line, feel free to check out our Contact & FAQ page.
Read