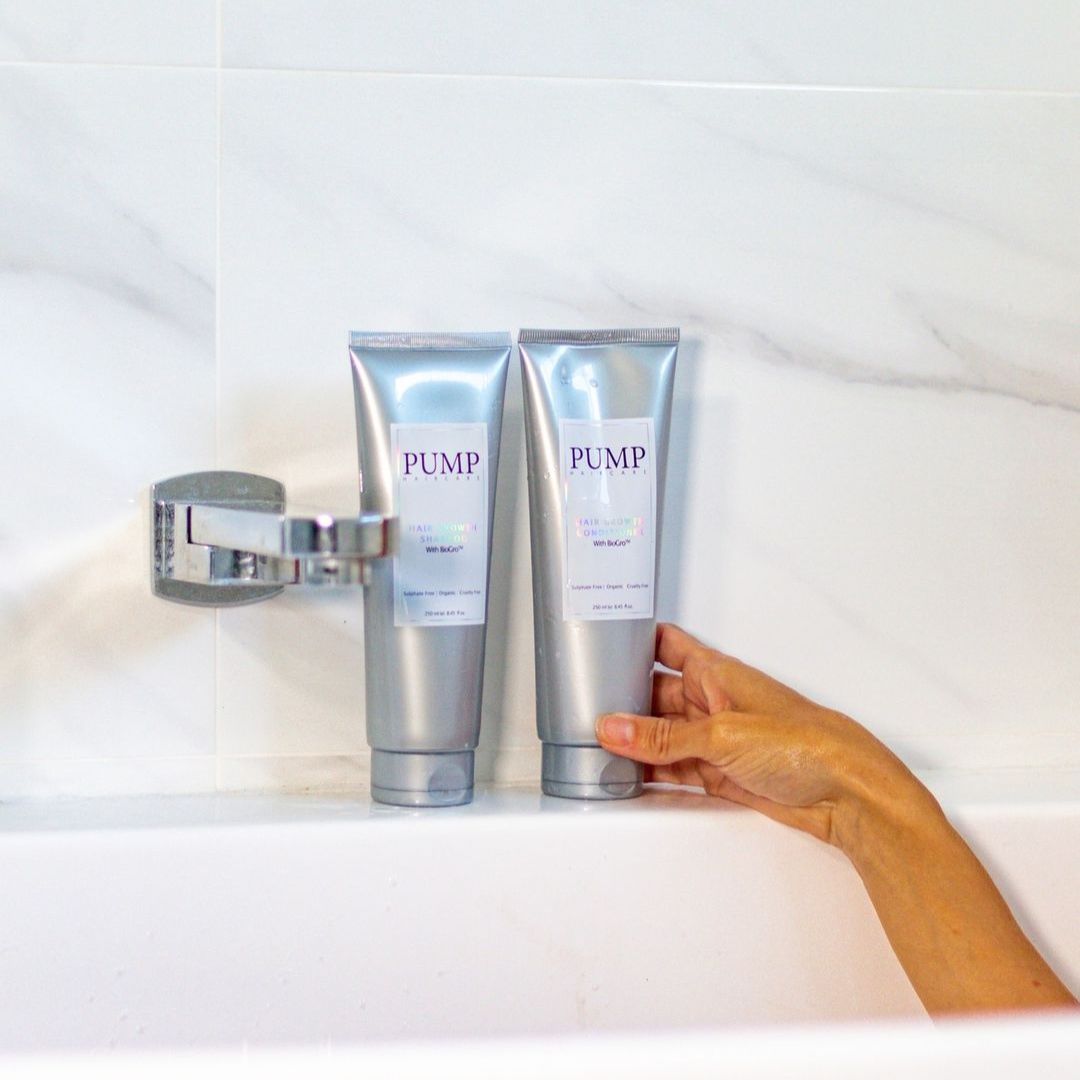 Hair Growth Products Australia
Welcome to Pump Haircare's Growth Collection, where we offer the best hair growth products in Australia. Our mission is to help you achieve healthy, luscious locks with our expertly crafted range of products designed to promote hair growth, combat hair loss and thinning, and provide a natural solution for your hair. We understand the challenges of hair loss and thinning or maybe your hairdresser wasn't listening when you said just a trim (been there). That's why we've created a powerful range of natural hair growth products to stimulate hair regrowth and nurture your hair from the roots to the tips.
Reasons For Using Hair Growth Products
There are several reasons why an individual would want to grow their hair quickly. They might be growing their hair out to achieve a certain look or may want to enhance their natural beauty by making their hair appear fuller. Alternatively, others may be experiencing hair loss and are using hair growth products to encourage regrowth. Whatever the reason may be, many methods and products can be used to achieve one's desired hair goals.
The Power of Nature 
To promote hair growth, it's essential to adopt a holistic approach. At Pump Haircare, we believe in the power of natural ingredients to help your hair reach its full potential. That's why our Growth Collection is packed with nourishing and restorative elements like biotin, caffeine, and essential oils, all working together to create the perfect environment for hair growth. Our products are cruelty-free, vegan, and free from harmful chemicals like sulphates, parabens, and silicones, ensuring your hair receives only the best, most beneficial treatment without any hidden chemicals or nasties. Here are some ways to improve hair regrowth:
Taking Supplements For Your Hair
Hair supplements are dietary supplements that contain the vitamins, herbs, and minerals you need to support healthy hair growth. Biotin, zinc, vitamin D, and keratin are vital nutrients for healthy hair. Hair supplements should not replace a healthy diet and should be used as an addition to your diet. It's best to check with your doctor what vitamins are best suited for your body before purchasing any vitamins. The Pump Mermaid Hair Growth Vitamins are the ideal supplement for making your hair grow faster, reducing hair fall, and giving a fuller appearance.
Why Invest in The Best Hair Growth Products in Australia
Choosing the right hair care products specifically formulated for hair growth with natural and tested ingredients is your best bet at achieving your hair goals. If you are looking for natural hair care products that work wonders for your hair growth? Look no further than the Pump Ultimate Growth Pack! Having a hair care routine tailored to your needs is crucial for maintaining healthy hair and a healthy scalp. This pack includes nine products designed to strengthen, repair, and nourish your hair from the roots to the ends. No need to spend hours curating a hair care routine, because Pump Haircare has got you covered! 
Hair Growth Explained
Your hair grows from the root at the bottom of your hair follicle, which is under your skin. The blood in your scalp goes to the hair follicle and supplies the right nutrients and oxygen to the hair root, which, in turn, helps your hair grow. Your hair pushes through your skin to pass by an oil gland, making your hair shiny and soft.
Hair Loss Explained
Hair loss can occur due to a variety of factors, including aging, hormonal changes, genetics, medical conditions, and certain medications. Hair loss can also be caused by physical stress, poor nutrition, or using harsh chemical products like bleach. Hair loss could also be a temporary condition and may reverse itself over time.
Hair Loss Products
When you use the right products for your hair type and concerns, you'll be able to strengthen your hair and keep it healthy, ultimately promoting hair growth. There are also specific ingredients in hair growth products that can target your hair loss concerns. The targeted nutrients and vitamins in these products can stimulate hair follicles, increase circulation, and, therefore, result in faster hair growth. Ingredients to look for in hair growth products include biotin, zinc, caffeine, saw palmetto, vitamin B3, coconut oil, and vitamin E oil, just to name a few.
Experimenting With Different Hair Growth Products
Certain hair growth products may work better than others depending on the ingredients they contain. If you're using a hair product with natural ingredients such as biotin, peppermint oil, and rosemary oil, which are shown to promote hair growth, then you might see better results. Some products on the market may contain active ingredients to target hair growth concerns such as hair density, fullness, and thickness. These products may have high concentrations of certain active ingredients, making the product more effective. However, it's important to consider your hair type and how results vary for each person - even when they use the same product and have the same hair problems.
Best Hair Growth Products Australia
We take pride in offering an extensive range of hair growth solutions to suit every need and hair type. Our carefully curated Growth Collection includes:

Shampoos And Conditioners
There are many different types of shampoos and conditioners on the market that are designed for hair growth and support healthy hair. The Pump Hair Growth Shampoo and Growth Conditioner contain our unique BioGro formula, which has Australian Certified Organic Oils such as Argan, Macadamia, Chamomile, and Peppermint. These products also contain the most bioactive form of Coenzyme Q10 (Ubiquinol), which increases your keratin production, resulting in longer and thicker hair. The shampoo formula gently cleanses and stimulates the scalp, encouraging increased blood flow and nutrient absorption. The conditioner helps to detangle and hydrate the hair, restoring vitality and promoting hair softness. With regular use, expect shinier locks that are more resistant to breakage.
Hair Masks And Deep Conditioners
Hair masks and deep conditioners help nourish and repair your hair shaft, which increases elasticity, strength, and shine. The Pump Hair Growth Mask is an intensive weekly treatment that deeply penetrates the hair shaft to repair and strengthen weakened strands. With a blend of natural ingredients like Argania Spinosa Kernel Oil, Jojoba Oil, Lavender Oil, Peppermint Oil, and Rosemary Extract, this mask restores your hair's natural shine, elasticity, and resilience, promoting hair growth and preventing breakage.
Lash and Brow Growth 
Extremely easy to apply, the Pump Lash and Brow Serum is a natural alternative to strong chemical options on the market. With Cold Pressed Organic Ricinus Oil extracted from the seeds of the caster oil plant, this oil helps to moisturize and strengthen the hair follicles, promoting healthier and longer lashes and brows and has been used for centuries to promote hair growth. Other powerful natural ingredients include vitamin E used to protect, Omega-3 fatty acids to help nourish and promote growth, and Keratin Liquid Extract to improve the overall texture and appearance of your lashes and brows. 
Hair Growth Oil Treatments & Sprays
Hair growth serums are applied directly to the scalp to stimulate hair growth from the roots. The Pump BioGro serum is our best-selling hair growth treatment that uses natural active ingredients and has trials resulting in an 82% reduction in hair fall.

The Pump Liquid Gold Growth Oil Treatment is perfect for a pre-wash treatment designed to invigorate the scalp and hair follicles, ensuring your hair has the optimal environment to flourish and grow. With oils like Jamaican Black Castor oil, Peppermint, and Coffee oil.

The Pump Mermaid Lengths Anti Breakage + Split End Remedy Spray is a leave-in treatment that targets hair density and thickness. Packed with Biotin, Ashwagandha Root Powder, Hyaluronic Acid, Co2 Kiwi Seed Oil, and L-lysine, this spray is a go-to for protecting your hair and maintaining consistent growth. 
If you're still looking for ways to make your hair grow longer in a short period, check out our blog or check out our article on the habits you can incorporate into your routine for healthier hair. Jump on our FAQ + Contact page if you have any questions about our Hair Growth range!
Read