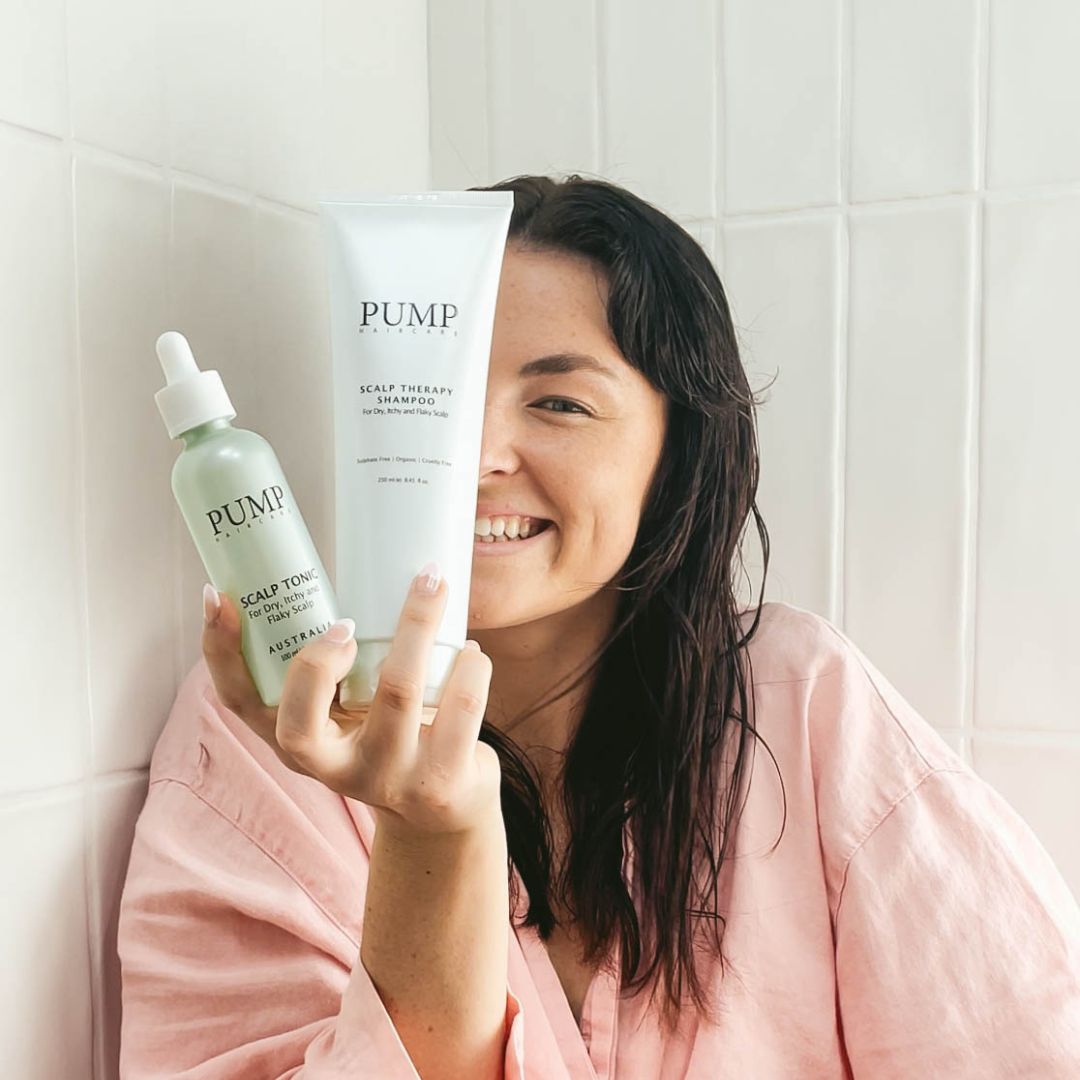 Our Go-To Itchy Scalp Treatment Products
Healthy hair starts from the roots! Our Pump Scalp range is formulated with natural extracts to soothe itchy scalps, lift loose dandruff, and add moisture to a dry and flaky scalp.

Oily or itchy scalps can be caused by many things including stress, genetics, dryness, hormones, dandruff, skin conditions like psoriasis or seborrheic dermatitis, and using the wrong hair products. If you have a scalp condition or infection, a doctor or board-certified dermatologist can offer different dry scalp treatments and determine what is causing the problem. Dryness can be caused by infrequent shampooing, scalp irritation, skin sensitivity, allergies and many other things.

If you have oily or itchy hair and scalp, it's essential to use hair care products designed for your hair type as these products are made to address your specific needs. When using the right kind of products for your scalp, the products can reduce inflammation, minimise scalp itchiness and control oil production. These products will also balance your scalp's natural oil production and restore the integrity of your scalp. 
The Pump Scalp Care Routine
The Pump Scalp range is specifically designed for people with oily or dry itchy scalps, made with 100% natural hair-loving ingredients and no harsh ingredients. Our products are free from sulphates, parabens, phthalates, talc and oxybenzone - all chemicals are known to cause irritation and inflammation for your scalp. Instead, the Pump Scalp range contains active ingredients that moisturise, reduce inflammation, remove bacteria, and provide healing nutrients. 
Natural vs Chemical Hair Products
Natural hair care products are typically more gentle on the scalp and hair, which causes less irritation and side effects in comparison to chemical-based products. These natural hair care products are formulated with hair-loving ingredients like Coconut Oil, Salicylic Acid and Tea Tree Oil that are scalp pH friendly, inhibit bacterial growth and strengthen your hair. Natural products that use these organic oils and extracts are free of any harsh chemicals, sulphates, parabens, artificial dyes and synthetic fragrances that can potentially cause further irritation or build-up on the scalp. Buildup occurs when you have an accumulation of natural oils, sweat, dead skin cells and hair products on your scalp and throughout your hair. If you are looking for itchy scalp treatment products then it's best to avoid the known allergens and irritants in chemical products and opt for transparent scalp-friendly products with intentional remedial ingredients.


Wash Day For Oily and Itchy Scalps
The Pump Scalp Therapy Shampoo has ingredients like Apple Cider Vinegar to lift the oils from your hair, Blue-Green Algae amino acids and Green Tea Extract to balance the pH of your scalp. Zinc oxide which is effective in reducing the production of oil on the scalp. Alongside a range of other natural antioxidants, anti-inflammatory, antifungal and antibacterial ingredients.

This gentle, scalp-friendly shampoo alleviates irritation and soothes a dry, flaky scalp. It is also free of sulphates, parabens, and other harmful chemicals, making it a safe and gentle option for those with sensitive skin.

On the other hand, the Pump Hair Growth Shampoo is an ideal product if you're looking for a shampoo that reduces excessive hair shedding, thicker hair and less breakage. As having an oily scalp with dandruff can increase hair loss, this unique BioGro formula will protect you from further damage and facilitate hair growth long-term with consistent use.

With both shampoos concentrate this product on the roots of your hair and leave it on for a minute or so. During this time, you can use the Pump Shampoo Brush or your hands to massage the product into your scalp.

We recommend starting with the Pump Scalp Therapy Shampoo or the Pump Hair Growth Shampoo depending on your scalp condition. You can always alternate between the two depending on your current concerns. Use the Scalp Therapy Shampoo once per week to maintain your scalp health and the Pump Hair Growth Shampoo every other wash for long-term growth.

If you're experiencing oily roots from overwashing or other causes, we recommend using the Pump Sugar Scalp Cleanser before you use the conditioner. This product will break down the oils in your hair gently and cleanse the scalp to lift the build-up and dirt caused by overwashing.

After you've rinsed out the shampoo or Sugar Scalp Cleanser, use any Pump Conditioner and run it through the mid-lengths to ends, avoiding the roots of your hair to prevent the appearance of an oily scalp. Leave the product on for at least 3 minutes and rinse thoroughly.

Hot tip: If you're looking for a conditioner that goes in hand with our Scalp Therapy Shampoo, try pairing it with the Pump Anti Frizz Conditioner. This conditioner smoothes down the cuticles to protect the hair from humidity and any dry climate conditions. It's packed with cold-pressed organic Argan Oil and Shea Butter, which will nourish and strengthen your hair. 
The Pump Itchy Scalp Tonic 
The Pump Scalp Tonic is a one-of-a-kind natural blend of ingredients designed to treat itchy scalps with ingredients like…

Salicylic Acid is a well-known exfoliant that removes dead skin cells and unclogs hair follicles, perfect for those with build-up on their scalp. It also has anti-inflammatory properties that soothe and calm an itchy scalp.

Witch Hazel Extract is another anti-inflammatory ingredient that helps reduce excess oil production which can contribute to ongoing scalp problems.

Similar to Watch Hazel Extract, Apple Cider Vinegar is a natural antimicrobial and anti-inflammatory agent that rebalances the scalp's pH level and helps reduce itching caused by dry skin.

Niacinamide (Vitamin B3) improves blood circulation in the scalp improving the movement and exchange of oxygen and nutrients in your scalp.

Aloe Barbadensis Leaf Juice Powder is a natural moisturiser that helps to soothe and hydrate the scalp. With enzymes that break down build-up helping to control oil levels on your scalp. Past research has shown that aloe vera can also significantly decrease flakiness and itchiness.

Chamomile flower extract which enhances shine and contains antioxidants that help to protect hair from damage caused by free radicals, which can lead to hair breakage and loss.

Rosemary extract is a popular scalp treatment oil that has been shown to improve hair growth and thickness by stimulating blood circulation in the scalp. That also has antimicrobial properties that can help to prevent dandruff and other scalp conditions.

Other powerful natural ingredients in the Pump Scalp Tonic include White Willow Bark, Burdock Root Extract, Charcoal Powder, Glycerin a humectant that addresses scalp dryness which can contribute to itching and Ethyl alcohol a solvent that aids in dissolving and removing excess oil from the scalp. This combination of active ingredients works together to stimulate hair growth, reduce inflammation and improve irritation from dryness and flakes. Regular use of the Pump Scalp Tonic can result in a balanced, revitalised scalp.
The tonic is sprayed directly on the roots and can be applied to wet or dry hair. Use the Pump Shampoo Brush in gentle circular motions on your scalp after applying it to stimulate blood flow and aid in the removal of dead skin cells. Just like with any other hair product regular use for a long period of time is the best option for seeing your desired results. If you're a regular Scalp Tonic user like us and looking to stock up the Pump Scalp Tonic Trio is a good deal.

We also have the Pump Scalp Therapy Trio, a pack of the Scalp Tonic, Scalp Therapy Shampoo and Shampoo Brush - all the products you need to tackle your scalp and oily hair problems! 
Extra Scalp Care 
If you're looking for a dry shampoo to use in between your wash days, try out our Pump Refresh Dry Shampoo, this will keep your hair feeling clean and ease your greasy root problem without the time investment of a full wash day - and it won't dry your hair out! Loaded with essential ingredients like Vitamin B5 and Chia seed to keep your hair soft, this on-the-go scalp-friendly refresher is addictive. 
If you'd like to know more about the Pump Oily or Itchy Scalp range or have any questions regarding itchy scalp treatment products, check out our FAQ + Contact page!
Read