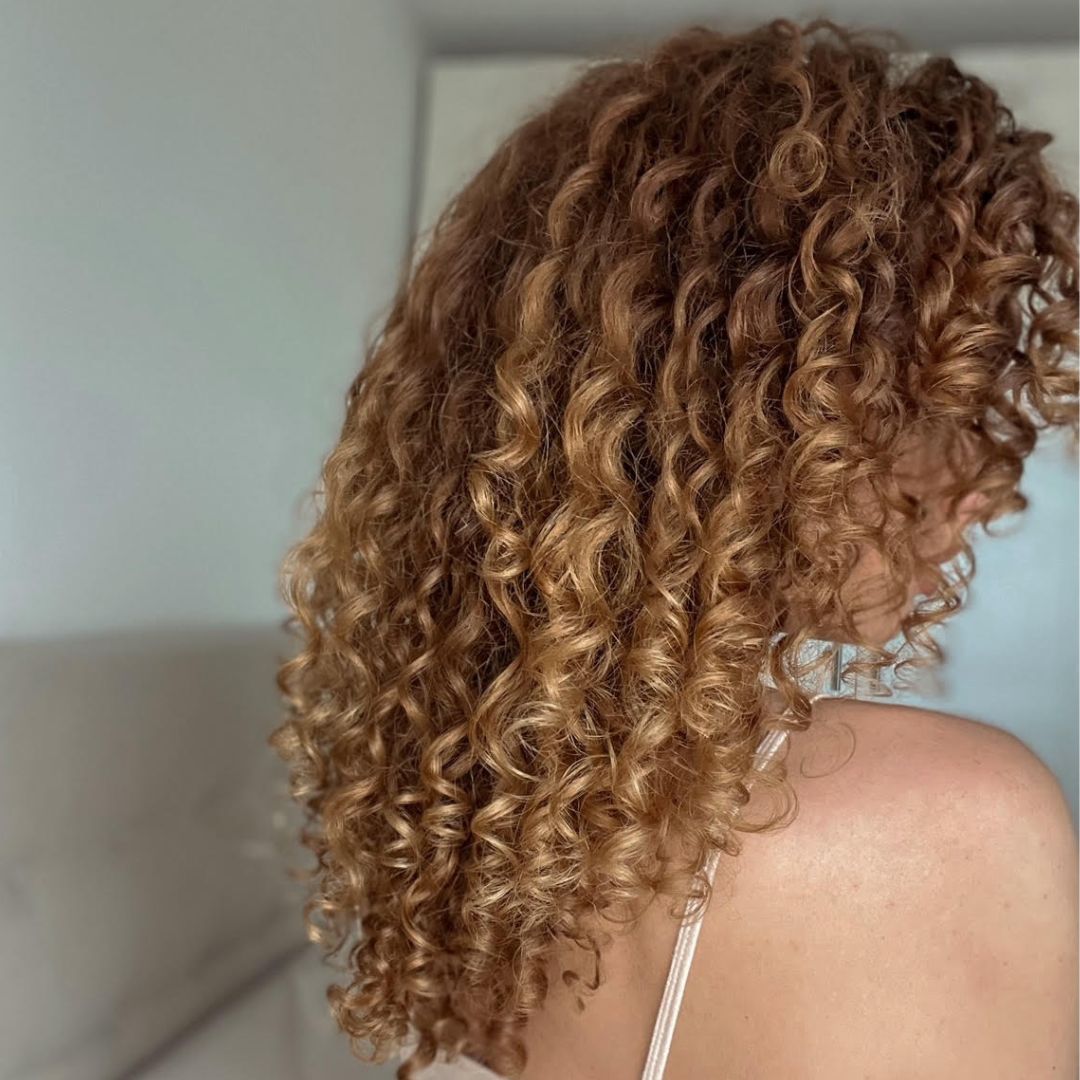 Hair Products For Curly Hair
For those with curly hair who want to embrace their natural texture and keep their curls healthy and defined.
Curly Girl Hair Care
The Curly Girl Method is an approach to hair care for naturally curly or textured hair types that enhances the natural curl pattern without the use of harsh chemicals. Steering away from sulphates and silicones and instead, using natural gentle and nourishing products that promote moisture retention and curl definition.
Hydration Is Your Curly Hair's Best Friend
One of the primary concerns faced by curly girls and boys is dryness and lack of hydration. This occurs due to the shape of the hair strands, which makes it difficult for natural oils to travel down the entire length of the hair, leaving the ends parched and prone to frizz. It is crucial to understand that hydration is the key to managing curly hair, as it not only prevents breakage and split ends but also helps to define those gorgeous curls. By establishing a good curl routine and using products specifically designed for curly hair, you can easily tackle the challenges associated with this hair type and enjoy healthy and bouncy curls.
Starting A Routine 
Whether you are just embarking on your curl care journey or are wanting to try something new to step up your curl care, formulating a routine with this basic principle of hydration will help you achieve healthier, more defined and bouncier curls with reduced frizz and increased shine.

Traditional hair care methods don't prioritise hydration and often have hidden ingredients that aren't suited to curly hair needs. Supermarket shampoos, conditioners and styling products have drying ingredients or chemicals that can leave your curly hair feeling dry, brittle or damaged or cause buildup over time.

The first step is to swap products in your routine for those specially formulated for curly hair. Free of sulphates, silicones, parabens, and drying alcohols. Aside from curly girl shampoo and conditioner, a good leave-in conditioner, a curl-defining cream or gel, and a deep conditioner will be game-changing. And remember, consistency is key to seeing results. With time, maintaining a curly girl routine will nurture your hair back to health if you have been struggling with hair concerns for a while and will make hair styling easier.
Hair Type and Curl Pattern
To build a routine of hair products for curly hair it's much easier if you have an understanding of your hair type. It's important to remember that it's normal to have multiple different hair textures, you can have 2B and 4B curls or any other combination of curl types. From there you are equipped to look out for products specifically designed to cater to various curl types and hair textures. If you're not sure where to start you can refer to our curl pattern guide which will help you identify specific products that suit your curls best with a porosity test and a curl pattern chart.

Hair porosity refers to the ability of your hair to absorb and retain moisture. It is determined by the condition of the cuticles, which are the outermost layer of the hair shaft. Curly girl hair care products designed for low-porosity hair may contain lighter oils that can penetrate the hair shaft more easily, while products for high-porosity hair may contain heavier oils to help seal in moisture. Using products that are not formulated for your hair's porosity may not be effective and can even cause damage. If you already know what your hair porosity is we have got you covered with a full routine for Low Porosity Curly hair and High Porosity Curly hair. 
The Pump Curly Girl Routine
Step 1: Shampoo
The Pump Curly Girl Shampoo checks all of the boxes of the curly girl method. Containing Organic Argan Oil a moisturising and softening agent full of fatty acids and vitamin E, a natural antioxidant that strengthens and protects your hair. Frizz is a result of a lack of moisture in your hair and raised cuticles and argan oil helps to soothe the cuticles and lock in moisture. If you have curly hair you may have heard once or twice that you should stop shampooing your hair so often, but the reality is build-up can occur and when you use a gentle shampoo like the Pump Curly Girl Shampoo with gentle coconut cleansers then you can shampoo as frequently as needed carefree. Let's be honest we all love a head massage and the Pump Curly Girl Shampoo Brush feels incredible and helps you massage your shampoo into your scalp and lift scalp buildup.
Step 2: Curly Co-Washing and Conditioner
If your hair is particularly dry or you have less build-up, the Pump Curl and Grow Hair Mask is perfectly designed for co-washing, a one-stop shop hair cleansing technique that focuses solely on hydration. This curly hair mask can be left on from 20 minutes to overnight and has Biotin, a B vitamin known to improve the structure of keratin and strengthen your hair. The jojoba oil in the mask is also highly nourishing, strengthening and promotes hair growth and thickness. The best part is, you don't need to shampoo beforehand with this one!

The Pump Curly Girl Conditioner is made with pure Virgin Argan Oil and Sweet Almond oil to lock in the moisture and hydrate your hair and scalp. Both Argan oil and Almond oil are safe for all hair types and particularly beneficial for curly hair. Just like applying a mask you can scrunch and rake the conditioner into your hair, applying from the mid-lengths to ends, leaving it in for at least 5 minutes. If you're prone to getting knots, try out the Pump Detangle Comb and detangle the knots while the conditioner is in. You don't need to rinse this conditioner completely because it doubles as a leave-in conditioner if needed.
Step 3: Curl Enhancing Post Shower Care
To support your curl structure and protect your hair from day-to-day damage,   use the Pump Curly Girl 2 in 1 Define and Repair Cream leave-in treatment on the mid-lengths and ends of your hair. Apply a pea-sized amount to your hands, rub them together and rake it through your hair while scrunching your curls. For light to medium curl hold, the Pump Soft Curl Gel will be ideal for defined shape and shine.
Step 4: Plopping And Drying Curls
You can use the Pump Bamboo Hair Towel to plop your hair while it is still wet. Made of soft bamboo, it will help dry your hair up to 40% faster and reduce frizz. Normal towels typically have a rougher texture that causes friction and can disturb your natural pattern when drying. If you have low porosity hair scrunch and rake your hair with the Pump Curl Activating Milk before plopping for better results. Then let your hair air dry or use the Pump Curl Diffuser.
Step 5: Maintaining Your Curls Day 2 Onwards
Your curls won't look like how they do on wash day every day, but you can revive your curls with a hit of moisture at any time. The Pump Spring Back Curls spray is a lightweight spray that can help reform curls, bring bounce back and reduce frizz until your next wash. Alternatively the Pump Miracle Curl Oil will add some moisture and shine to day 2 and 3 hair. 
The Pump Curly Girl Range
The Pump Curly Girl Range was made to embrace and enhance your naturally curly hair without the extra fuss. All Pump Haircare products are cruelty-free and free of sulphates, parabens, silicones, palm oil, talc, and oxybenzone. The entire Pump Curly Girl range is 100% curly girl approved, vegan and made in Australia. If you have any questions or need help deciding what would be best for your hair the Pump team is here to help, check out our FAQ and Contact page here!
Read