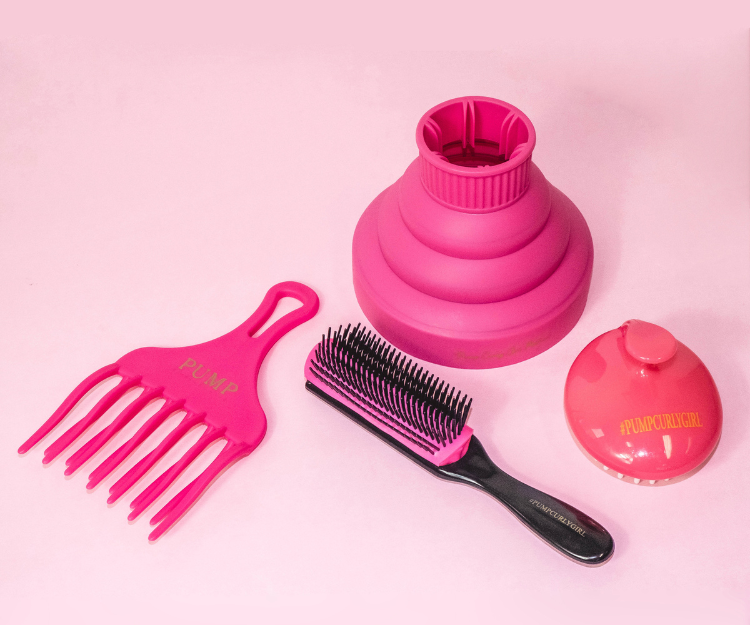 Hair Care Accessories
At Pump Haircare, we're passionate about helping you achieve your dream hair! Sometimes all that you need is one hair care accessory or tool to help you achieve your desired look. From sleek and straight to bouncy curls, our high-quality brushes, combs, hair diffusers, straighteners, and more will help you transform your hair! 
Our Favourite Hair Accessories
No matter your hair type or styling needs, we have a variety of tools to help you elevate your hair game. 
The Pump Kurly Kidz Yellow Curl Detangle Comb is designed to gently detangle curly hair without causing any damage or breakage. The Pump Kurly Kidz Hair Towel is a soft microfiber towel that is gentle on hair and helps to reduce frizz and breakage. Both are great options for kids with curly hair who struggle with knots and tangles.
The Pump Shampoo Brush is a versatile tool that can be used to massage the scalp, exfoliate, and distribute the shampoo evenly. Perfect for people looking to improve their scalp health. 
The Pump White Detangle Brush is a must-have for anyone who struggles with tangled hair. Its unique design allows for pain-free detangling, great for thick or thin hair. The brush's flexible bristles glide smoothly through hair, gently separating knots and tangles without pulling or tugging. This also helps to prevent breakage and damage to the hair, promoting healthy hair texture.
Hot Tools
Hot tools are essential for creating texture and different salon-worthy hair looks at home that you couldn't achieve with your natural hair otherwise! To protect your hair in the long run, we recommend using the Pump 300° Heat Protection Spray before using any tool.
Pump Sirena Waver
The Pump Sirena Waver is a hair styling tool designed to create mermaid-inspired waves in your hair. It features a 25mm triple barrel and a ceramic glaze with a nanotechnology surface, ensuring balanced heat distribution for smooth even waves. The waver has easy temperature control with an LCD screen display and can reach up to 210 degrees Celsius. The 360-degree anti-tangle cord makes it easy to use, and you can adjust the time you hold the waver on each section to create different types of waves. With the Pump Sirena Waver, achieving beachy, mermaid hair has never been easier!
Hot Tools 24k Gold Curl Bar
The Hot Tools 24k Gold Curl Bar is another great tool for achieving bouncy, voluminous curls. With its ergonomic design, it reduces strain on your wrist, shoulder, and elbow, making it easier to create perfect curls without discomfort. The 25mm barrel size allows you to create a variety of styles, from tight, defined curls to loose, beachy waves. The 24k gold styling surface ensures even heat distribution, resulting in long-lasting curls. The digital temperature control dial allows you to adjust the temperature from 160° to 230°C, and the timer control lets you hold each curl for precisely the same amount of time. With its "Gets Hot…Stays Hot" Pulse Technology, this curling iron heats up quickly and stays hot while you style. The extra-long cool tip and thumb grip provide additional control and safety, while the 3m professional length cable with swivel and worldwide voltage make it easy to use anywhere. 
Hot Tools 24k Gold Titanium Flat Straightening Iron
The Hot Tools 24k Gold Titanium Flat Straightening Iron is a high-quality hair styling tool that can be used to curl or straighten hair, delivering salon-quality results at home. Its 24k Gold Titanium plates provide smoothness and shine, while the multi-dimensional floating plates straighten and smooth hair with just one pass. The flat iron is versatile and can be used to create curls and waves as well. Its digital LCD and 14 variable temperature settings make it easy to control the level of heat and minimise hair damage. This hair straightener also features "Gets Hot…Stays Hot" Pulse Technology for fast heat-up and instant heat recovery, and a slim, ergonomic design that is comfortable to use. With a 3m professional length cable with swivel, worldwide voltage, and a 2-hour automatic sleep mode, this flat iron is perfect for achieving a salon-quality hair finish at home. The flat iron's slim design makes it easy to use, even on short hair or bangs.
Our Curly Girl Range
We offer a range of tools specifically designed to enhance and maintain your curls. The Pump Bamboo Hair Towel is a must-have for anyone looking to cut down on frizz when drying. Made with microfiber technology, this towel is gentle on hair while effectively absorbing excess water. Our Pump Pink Travel Diffuser is perfect for on-the-go styling, with its compact size and universal fit for most hair dryers. This hair dryer evenly distributes heat to enhance your curls without causing frizz, leaving you with defined, bouncy locks.
The Pump Pink Detangle Comb is great for gently detangling your curls without causing breakage. Its wide-tooth design is gentle on your hair and helps to evenly distribute conditioner, leaving your curls soft and manageable. Our Curly Girl Shampoo Brush is another must-have tool for textured hair. Its gentle bristles massage your scalp, promoting healthy hair growth and removing buildup. It's perfect for use with our Pump Curly Girl Shampoo, which is specially formulated to cleanse and nourish your curls.
Finally, the Pump Curl Define Brush is designed to enhance your curls' natural shape while reducing frizz. Its unique shape allows you to easily define your curls and create a polished look when styling.
The Pump Curly Girl Accessories Pack includes all the essential tools you need to maintain your curls, with the bonus of saving 10%!
Hair & Skin Tools
When it comes to traditional facial massage tools we have the Pump Gua Sha that effectively reduces puffiness, improves circulation, and promotes lymphatic drainage with proper use. As well as the Pump Rose Quartz Face Roller that soothes and cools the skin, reduces inflammation and enhances blood flow.
Our best hair growth tool is the Pump Hair Growth Derma Roller which stimulates hair growth by stimulating the scalp. 
Finally, a classic yet underrated hair secret is great pillowcases and sleep caps. You'd be surprised by the Pump Mulberry Silk Sleep Caps and Pillow Cases and how they can minimise hair breakage while you sleep. The Sleep Cap comes in Black and Pink, and the Pillow Case comes in Black, Pink, and White.


Eco Coconut Brush Tools
The Eco Coconut Wide Tooth Comb and Tail Comb are perfect for detangling hair without causing any damage or breakage. The Eco Coconut Paddle Brush and Oval Brush are great for styling and smoothing hair, while the Eco Coconut Tint Brush is perfect for applying hair dye without creating any mess. All of these brushes are made from natural coconut and sustainable materials, making them an excellent choice for anyone who wants to reduce their carbon footprint and make a positive impact on the environment.
Read