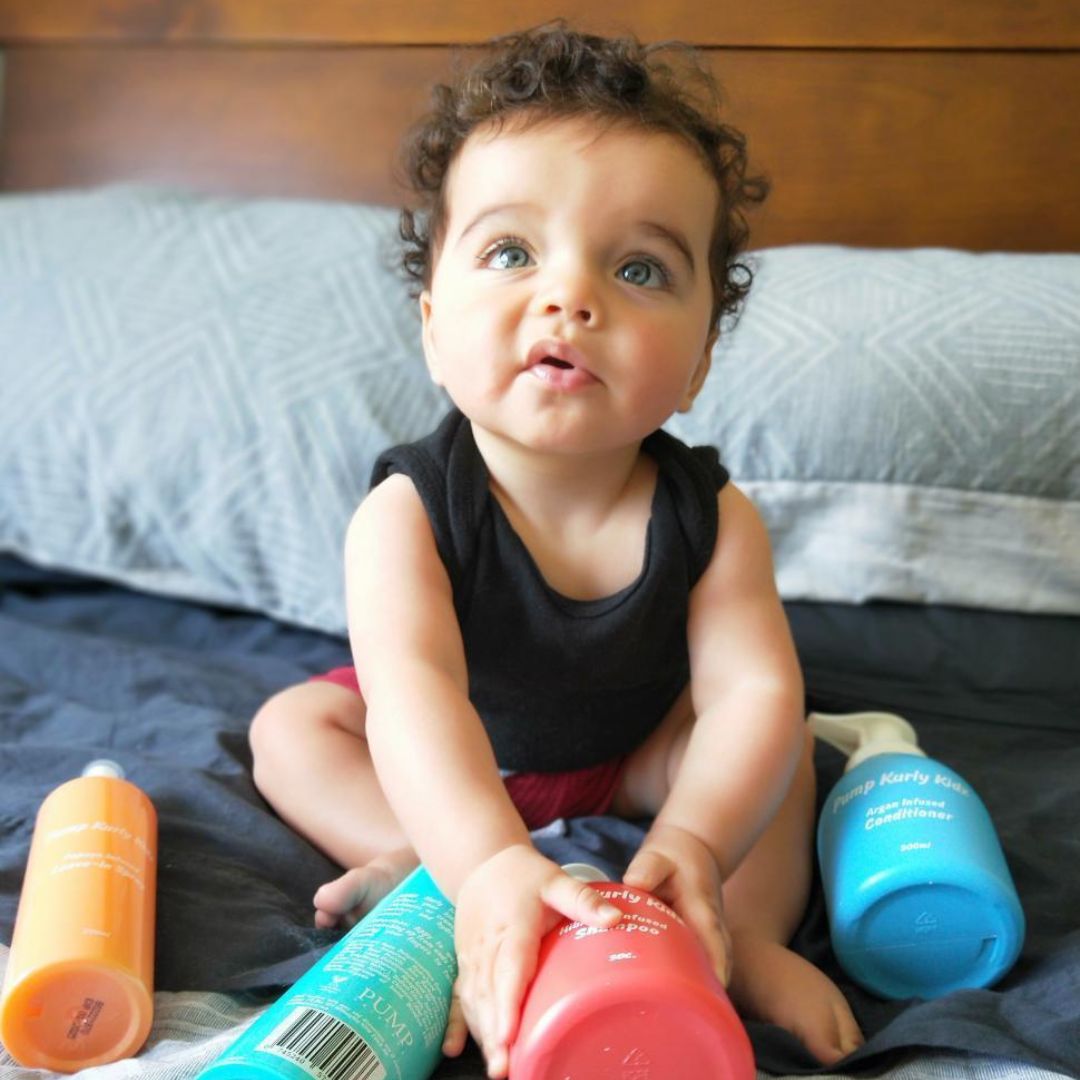 Kids Curly Hair Products
The Kurly Kidz range provides gentle care for your kids while reducing knots and frizz! Suitable for all ages, starting from 6 months old.

Hair is a central part of a child's identity and sense of self. Understanding how to care for curly hair allows children to feel more confident in their appearance and instils a sense of responsibility in kids that can translate to other areas of their lives. Teaching your kids how to take care of their curls is also an opportunity to bond, try new techniques, and learn about hair types and different steps in a wash day routine. All of these lessons are important moments for connection, self-care, and growth.

Kids' hair can be exposed to all sorts of mess, dirt, oils, sunlight, and germs in day-to-day life. Without a consistent routine build-up can accumulate on their scalp, causing an irritated and itchy scalp, odour, and knots. When your kids have curly hair, wash day is even more important. The right kids' curly hair products will help your child maintain their curl pattern and hair health between wash days.
Using kids curly hair products in your routine is important because it helps to maintain the health of their hair and doesn't strip the hair of natural oils. Children's skin can also be sensitive to harsh chemicals such as synthetic perfumes, colours, and preservatives, which can irritate, leaving their scalp itchy and uncomfortable. Hair care products designed for adults can also contain heavy, firm-forming conditioners and aggressive surfactants. In contrast, natural kids' curly hair products are made with ingredients such as aloe vera, papaya, kiwi, and hibiscus that help to nourish and moisturise.
Toddler Curly Hair Products Australia
The Pump Kurly Kids collection is gentle on curly hair and perfect for toddlers and kids of all ages with nourishing ingredients and amino acids to strengthen and protect. All of our products are FREE from sulphates, parabens, phthalates, talc and oxybenzone. We pride our products on being cruelty-free, vegan and made in Australia. If you're not sure where to start with your Kids With Kurls routine, check out how you can start here!
Each Pump Kurly Kids hair product has different ingredients to help nourish your kid's hair. Our Hibiscus Infused Shampoo enhances your kid's natural curls and is packed with amazing ingredients like White Tea Leaf and Hibiscus Extract to hydrate the hair. There are also natural amino acids and Organic Argan Oil to strengthen your kid's hair. 
Pair this kids shampoo for curly hair with our Argan Infused Conditioner, infused with Argan Butter to return shine to those luscious curls and provide moisture from the scalp to split ends - leaving their hair super soft and knot-free. This conditioner also contains Vitamin B5 and Avocado Oil which strengthen and increase shine.  
The Pump Kurly Kidz Papaya Infused Leave-in spray, is a detangling spray and leave-in conditioner used to get the knots out of your kid's hair and is perfect to refresh curls on non-wash days! It has Coconut Oil and Aloe Vera, which tames frizz, heals breakage, promotes healthy hair growth and will leave your child with shiny hair. 
To set the curls in place, the Pump Kurly Kidz Curl Jelly is perfect for enhancing curl definition and keeping them in place all day long. It is formulated with Kiwi Seed Oil and Aloe Vera for moisturising dry, knotty curls, and Baobab Seed Protein for long term strengthening. The best part is, it leaves no stickiness or crunchy texture!
If you don't have any kids curly hair products, then Pump Kurly Kidz Pack is an excellent low-maintenance complete routine. This pack has the Pump Kurly Kids essentials and your child's curls will stay happy & healthy with consistent use.
If you want to take your toddler curl hair care to the next level the Pump Ultimate Kurly Kidz Pack includes the full collection with a Kurly Kidz Towel and Yellow Comb. With this pack, you'll be able to gently cleanse your kid's hair, tame frizz, detangle knots and define curls without the nasties or synthetic fragrances.
Still have questions that need to be answered? Check out our FAQ and Contact page here and the Pump team are happy to help.
Read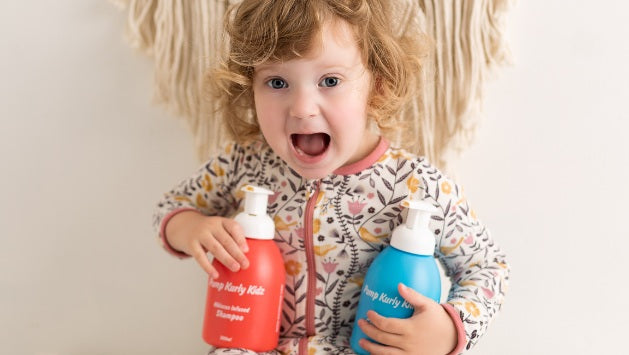 How to Care For Your Kids Curls
Caring for curly hair can be a challenge, especially when it comes to children. Curly hair requires extra attention and care to prevent it from becoming tangled, dry, and damaged.
Read More