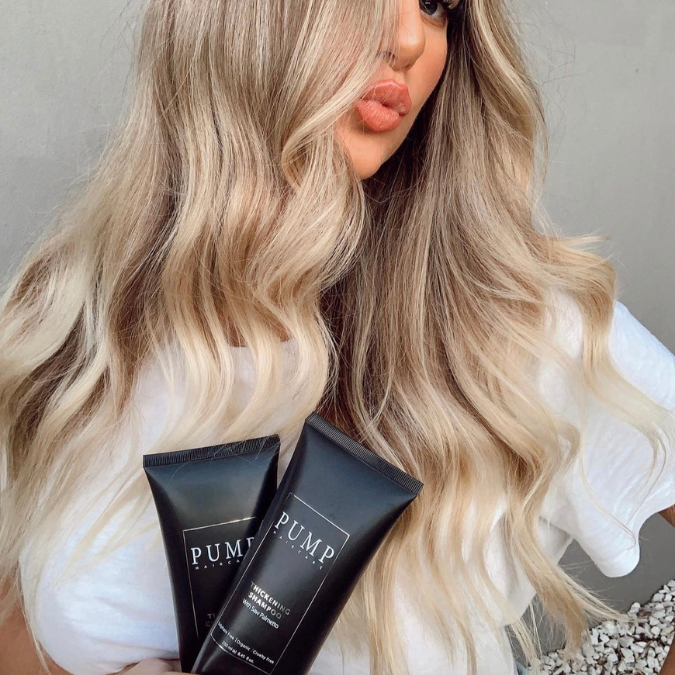 Hair Thickening Products Australia 
Tired of flat, lifeless hair that lacks volume and thickness? Our Volume & Thickness Collection is the perfect solution for those looking to add lift and body to their hair without compromising its health and integrity. From shampoo and conditioner to styling products, our Volume & Thickness Collection has everything you need to transform your hair game. Whether you're looking for a boost of volume for a special occasion or want to add volume to your everyday look, Pump Haircare has you covered. Say goodbye to flat hair days and hello to voluminous locks!
Thick Voluminous Hair
Do you dream of having luscious, full-bodied locks without hair extensions? If so, you're not alone. Many people crave thicker hair for a variety of reasons.
An Extra Boost  
We all know that hair is one of the first visible aspects of our appearance and it can have a dramatic impact on any look. Helping to frame your features, hair serves as a natural accessory that complements your style and personality. Thicker, more voluminous hair has the power to not only enhance your appearance but also leaves a lasting impression.
A Sign of Good Health
Having thick hair is also often associated with good nutrition and overall health. If you don't have thick hair and want that same healthy glow, you can nurture hair growth with a good hair care routine. A dedicated routine combined with the use of head massage tools like the Pump Derma Hair Growth Roller will promote blood flow to the scalp, which will help nourish the hair follicles and promote denser hair growth. 
Styling Opportunities 
Thick hair is great for styling because it gives you a lot of volume and body to work your hair into a range of different hairstyles. Whether you're aiming to style your hair for every day or a formal event with thick hair, you can experiment with various haircuts, braids, updos, half-updos, buns, waves, and a whole range of other looks.
Pump Haircare Thickening Products
All Pump Haircare products are cruelty-free, vegan, and free of harmful chemicals such as Sulphates, Parabens, Phthalates, Minerals, Petroleum and Oxybenzones, making our products a great choice to promote healthy hair growth. We understand the importance of having thick, voluminous hair, which is why we've created our Volume Collection. Let's run through some of our go-to products and the key ingredients of each. 
Pump Thickening Shampoo
The Pump Thickening Shampoo has a unique formula that not only cleanses your hair but also adds volume to the hair cuticle, resulting in voluminous and fuller hair. Here are some of the key ingredients in this hair-loving formula. The packaging is made out of environmentally friendly sugarcane with zero carbon footprint, created in the heart of Australia by a solar-powered facility!
It is packed with powerful ingredients that promote healthy hair growth and improve scalp health. Sage Leaf Extract has anti-inflammatory and antioxidant properties, aids in preventing hair loss and promotes hair growth. Cucumber Fruit Extract deeply nourishes the scalp and hair follicles, hydrates and combats dryness and scalp inflammation. Aloe Vera is a favourite that helps to repair damaged hair follicles, reduces dandruff, and promotes hair growth.
Willow Leaf extract is less commonly known but helps to exfoliate the scalp, strengthen hair follicles and overall prevent breakage. Rosemary leaf extract is becoming increasingly popular and for good reason it works to stimulate hair growth, improve scalp health and reduce dandruff. With this potent blend of ingredients, Pump Thickening Shampoo strengthens hair, adds volume, reduces breakage, and promotes healthy hair growth.
For a deeper clean, we recommend using the Shampoo Brush to evenly distribute the product evenly and massage the scalp to promote healthy hair growth! 
Pump Thickening Conditioner 
This hair thickening conditioner contains a unique blend of ingredients that work together to nourish and strengthen your hair adding body while also providing it with the necessary moisture to look and feel healthy.
Hydrolyzed wheat protein penetrates the hair shaft to reduce breakage and split ends, while shea butter moisturizes and leaves hair soft and shiny. Nettle Leaf stimulates hair growth and improves scalp health with essential vitamins and minerals. Sweet Almond Oil nourishes and protects hair with vitamin E, while Rosemary Oil promotes healthy hair growth and protects against damage with antioxidants. This conditioner works best with the Pump Thickening Shampoo and the packaging is also made of sugarcane!
Pump Thickening Spray 
The Pump Thickening Spray is a styling product that adds volume to fine hair. It contains a blend of natural ingredients, including Nettle Leaf and Rice Protein, which are known for their hair-strengthening and thickening properties. Nettle Leaf is a rich source of vitamins and minerals that promote healthy hair growth, while Rice Protein has been shown to reduce hair loss and stimulate hair growth. This easy-to-use spray can be applied to damp or dry hair, making it a safe and effective option for all hair types.
Pump Thickening Trio
If you're looking for a pack of these three thickening hair products - Pump Thickening Shampoo, Pump Thickening Conditioner, and Pump Thickening Spray, try out our Pump Thickening Trio! This 3 step system is perfect if you're wanting to add volume and thickness without weighing your hair down. You'll save 10% when purchasing this pack!
Pump Whip it Hair Foam
The Pump Whip it Hair Foam is a styling product that adds texture and hold to your hair. Made with a unique blend of natural ingredients that work together to provide your hair with the nourishment and protection it needs to stay healthy and strong. Jojoba Protein is included to strengthen and protect individual strands, preventing breakage and split ends while adding shine and softness. Rice Amino Acids are rich in antioxidants and help to improve overall hair health, protecting against environmental stressors like pollution and UV rays. Kale Protein nourishes and protects hair with essential vitamins and minerals, while Nettle Leaf promotes healthy hair growth and soothes the scalp.
Pump Thickening Powder
Pump Thickening Powder is a care product that contains Silica, a mineral known for its ability to strengthen hair, nails, and bones. Silica absorbs excess oil and moisture from the hair, which can make it look flat, to create a more voluminous look. The powder also includes Vitamin C, a powerful antioxidant that protects the hair from free radicals and strengthens the hair follicles to reduce hair loss and breakage. Together, these ingredients create a powerful styling product that can enhance your hair's appearance naturally. This powder works best on dry hair and is great for a touch-up if your hair is losing volume or prone to being a bit oily outside of wash days. All you have to do is sprinkle the powder onto the roots of the hair and massage it in with your fingers to help distribute and allow the Silica to do its magic.  
Pump Thickening Mask 
Pump Thickening Mask contains Horsetail Plant Extract which is packed with Silica, a mineral we love at PUMP that's proven to be effective for improving hair thickness and growth. Complimenting this there are a wealth of other hair-loving ingredients designed to leave your strands nourished and healthy in this mask. Argan oil is packed with fatty acids, antioxidants, and vitamin E that leave your hair soft and with enhanced elasticity and supporting hair thickness.
Gotu Kola Extract is a popular herb that has been used to support hair thickness, shine, texture, scalp health and strand health. Other high-impact ingredients include Hydrolysed Keratin, Soy Protein and Vitamin B. All are rich in antioxidants and target the hair shaft adding body and making hair appear fuller. You can use this mask in place of conditioner each week or leave it on overnight or during the day for a deep impactful treatment. A little goes a long way with this rich but lightweight mask!

Have any questions or want to contact us? Check out our Contact + FAQ page to learn more!
Read