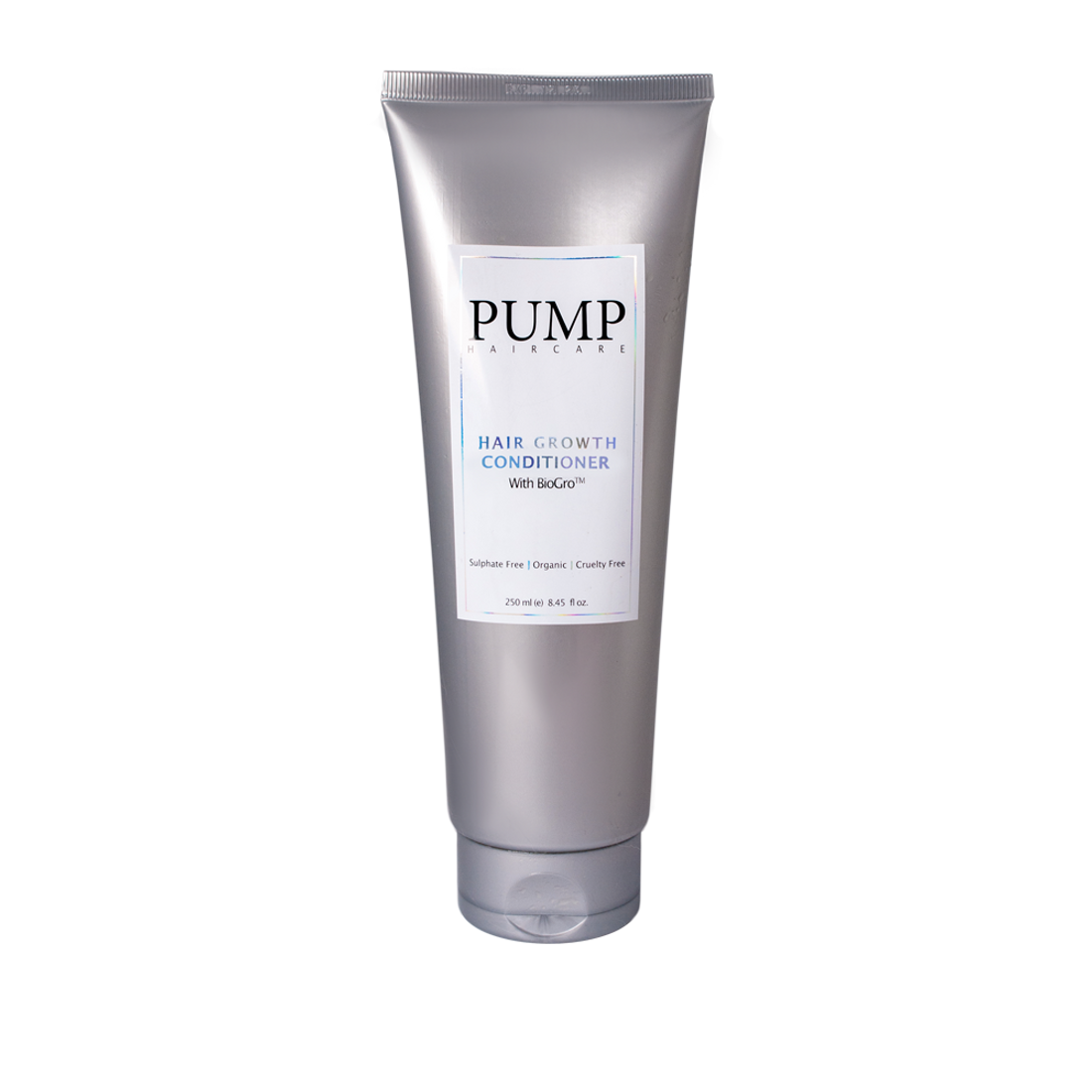 Pump Hair Growth Conditioner
$23.00 USD
NEW packaging! Now made with environmentally friendly SUGARCANE with ZERO carbon footprint right here in Australia by a solar powered facility!
Pump Growth Conditioner is a nourishing and hydrating Sulphate and Paraben-Free, Australian-Made conditioner made with our unique BioGro™ formula. Includes Peppermint Leaf Extract and Hydrolyzed Wheat Protein. You'll love the light peppermint scent that makes your hair feel refreshed. 100% colour safe and fine to use with hair extensions or keratin treated hair.
How to use

After shampooing, remove excess water from hair. Massage a small amount of conditioner into wet hair from roots to ends. Leave for at least 3 minutes, then rinse thoroughly.

250ml, 8.45 fl oz
Tash's Tips

Leave in this nourishing growth conditioner while you do the rest of your shower routine, for optimum absorbtion of the active botanical ingredients.

For very dry hair you can leave in some of the conditioner, simply don't rinse out as thouroughly, and the leftover product will continue to nourish and hydrate once your hair is dried.
Ingredients

Aqua, Cetearyl Alcohol, Cyclomethicone, Gelceryl Stearate, Isopropyl Myristate, Cetrimonium Chloride, Hydrolyzed Wheat Starch, Hyrdrolyzed Wheat Protein, Mentha Piperita (Peppermint) Oil*, Methyl Lactate, Serenoa Serrulata Extract, Panthenol, Behentrimonium Methosulfate, Hydroxyethylcellulose, Benzophenone-4, Niacinamide, Triedeceth-12, Glycerin (Vegetable), Dioscorea Villosa Root Extract*, Ubiquinone, Sanatlum Acuminatum (Quandong), Acacia Victoriae (Whattle Seed), Citrus Glauca ( Desert Lime), Allantoin, Urtica Dioica Flower Extract, Acillea Millefolium Leaf Extract*, Betula Alba Leaf Extract*, Equisitum Arvense Leaf Extract, Rosemarinus Officinanallis Leaf Extract*, Salvia Officinallis Leaf Extract, Tilla Platythyllos Flower Extract, Triticum Vulgare Extract, Thyme Vulgaris Flower/Leaf Oil*, Pyridoxine, Camellia Sinensis (Green Tea) Leaf Extract*, Phenoxyethanol, Dehydroacetic Acid, Benzoic Acid. (*Organic ingredients)
Shipping Info

All orders are shipped on the same day you place the order, if ordered before 4pm AEST.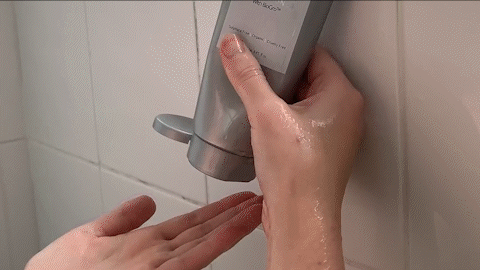 Watch and Learn
Apply the Growth Conditioner to your hair, working through to the ends. Leave it in for a few minutes, for optimum absorption of the active botanical ingredients.
Hair Growth Conditioner
Addressing hair loss requires taking a holistic approach to make sure your thinning hair receives the necessary nutrients both internally and externally, fostering a healthy environment for optimal hair growth. While factors like diet, lifestyle, and genetics influence hair health, nourishing your hair with an extra boost and protection against environmental stressors is crucial to maintaining the overall health of your hair and scalp. Our specially formulated hair growth conditioner is designed to offer the precise boost your hair needs to promote its vitality and well-being.
Star Ingredients
Establishing a healthy scalp environment is vital for promoting hair growth, and one effective way to achieve this is by stimulating oxygen circulation to the hair and scalp. That is precisely what our key ingredients are designed to do – working in harmony to enhance oxygen delivery to the scalp, ensuring your hair receives all the essential nutrients it needs to promote hair growth. 
Providing your hair with proper nourishment and support to prevent breakage is also important for preventing breakage and hair loss. To accomplish this, our hair growth conditioner is enriched with carefully selected organic ingredients. Here's a breakdown of what each star ingredient contributes to the overall process:
Niacinamide
Niacinamide, a derivative of Vitamin B3, plays a crucial role in DNA repair and various cellular processes. With its rejuvenating and stimulating properties, this ingredient works in our hair growth conditioner to promote oxygen circulation to the hair and scalp, effectively stimulating dormant hair follicles.
Hydrolyzed wheat starch and wheat protein 
In our hair growth conditioner, hydrolyzed wheat starch and wheat proteins play a dual role, providing deep moisturisation and strengthening benefits. Their film-forming properties attract and retain moisture, ensuring that your hair follicles stay well-hydrated. By strengthening the hair shaft, these ingredients reduce the risk of breakage, resulting in improved texture and increased volume for your hair. 
Peppermint Oil (aka Mentha Piperita) 
Peppermint oil, an antimicrobial essential oil, provides deep nourishment and stimulation to the hair and scalp. Its soothing menthol properties enhance blood circulation, facilitating the delivery of oxygen and nutrients to the hair follicles, thereby promoting healthy hair growth. Plus as an added bonus, it offers a wonderfully refreshing natural fragrance!
Wild Yam Extract (aka DIoscorea Villosa Root Extract) 
Wild yam extract, obtained from the roots of the wild yam plant, harbours anti-inflammatory properties long revered in traditional medicine for addressing hair loss concerns. By alleviating oxidative stress, it effectively soothes the scalp, fostering a harmonious and healthy environment for your hair and scalp. This balanced environment plays a crucial role in supporting hair growth and combating hair loss.
Rosemary (aka rosmarinus officinalis Leaf Extract) 
Rosemary's antimicrobial and antioxidant properties help to soothe and reduce scalp inflammation and are also known to promote hair growth. Its ability to control dandruff-causing microorganisms helps to create a healthier environment for your hair and scalp which is key to combating hair loss. If you are suffering from an itchy scalp we recommend our Pump Scalp Tonic packed with rosemary to soothe and bring balance back to your scalp. 
What causes hair loss? 
The reasons behind thinning hair and hair loss can differ among individuals it is influenced by various factors, including genetics, hormonal fluctuations, lifestyle choices, nutritional imbalances, and external stressors. 
If you are looking to give your hair the extra support it needs from the inside out, we recommend our Hair Growth Vitamins. They are packed with ashwagandha root extract and biotin, giving your thinning hair that extra boost it needs to promote healthy hair growth from the inside out. 
Further Recommendations
While hair loss can be influenced by various factors, maintaining a comprehensive hair care routine is essential to support the health of your hair and scalp and create an optimal environment for hair growth. If you are unsure where to start, our Pump Growth Pack is the perfect starting point as it offers a comprehensive solution to maintain voluminous hair without any harmful additives.
Read
These ingredients find themselves on our Block-List
Real People, Real Results
Click and hold to see before using the Pump Hair Growth Products.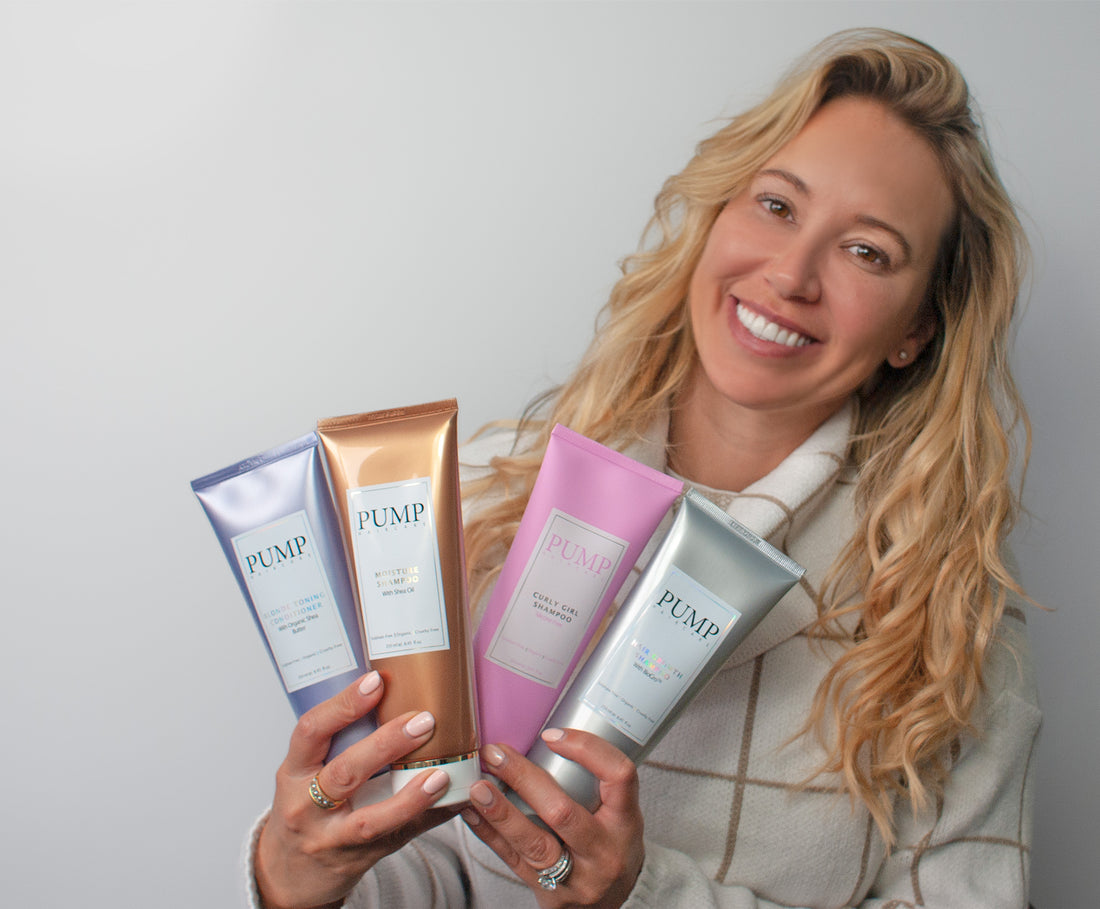 Don't know what to choose?
Ask Tash! Fill in our hair quiz to get custom product recommendations from Pump Haircare founder and hair guru, Tash Jay!
Help me choose
Looking for something?
Find more plant-based haircare collections right here!