Pump Blonde Toning Conditioner
$23.00 USD
PUMP Blonde Toning Conditioner is an intense conditioner to smooth and nourish bleached, blonde or coloured hair preventing split ends and dryness. It has been shown to strengthen blonde hair with continuous use.
How to Use

After shampooing, remove excess water from hair. Massage a small amount of conditioner into wet hair from mid lengths to ends. Leave for at least 3 minutes, then rinse thoroughly.

250ml, 8.45 fl oz
Tash's Tips

Be sure to have a regular conditioner on hand for those washes where you don't need extra toning.

You may only need to use the Blonde conditioner once a week or every 2nd wash. Adjust your leave in time for a stronger or weaker colour result. If your hair is colour treated it will take to the toning much easier than natural hair.
Ingredients

Aqua, Cetearyl Alcohol, Isopropyl Myristate, Glycerin, Glyceryl Stearate, Behentrimonium Chloride, Behentrimonium Methosulfate, Cetrimonium Chloride, Amodimethicone, Sorbitan Caprylate, PEG-100 Stearate, Parfum, Butyrospermum Parkii Butter*, Propanediol, Benzoic Acid, Panthenol, Polyquaternium-10, Trideceth-3, CI 60730, Linalool, Hexyl Cinnamal, Argania Spinosa Kernel Oil*, Aloe Barbadensis Leaf Extract*, CI 42090. *Organic Ingredients. All PUMP Haircare products are Certified Cruelty-Free and Vegan. We never include any of the nasties found in generic haircare, such a SLS, parabens, phalates, oxybenzones, talc and synthetic dyes. Made in Australia
Shipping Info

All orders are shipped on the same day you place the order, if ordered before 4pm AEST.
Strengthen, nourish and prolong your colour.
This super smart conditioner has been shown to strengthen coloured and bleached hair with continuous use.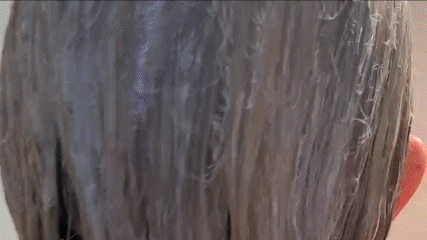 Watch and Learn
Apply the conditioner from mid lengths to ends. Continue to work through with your hands to evenly distribute the toner and leave on for a few minutes.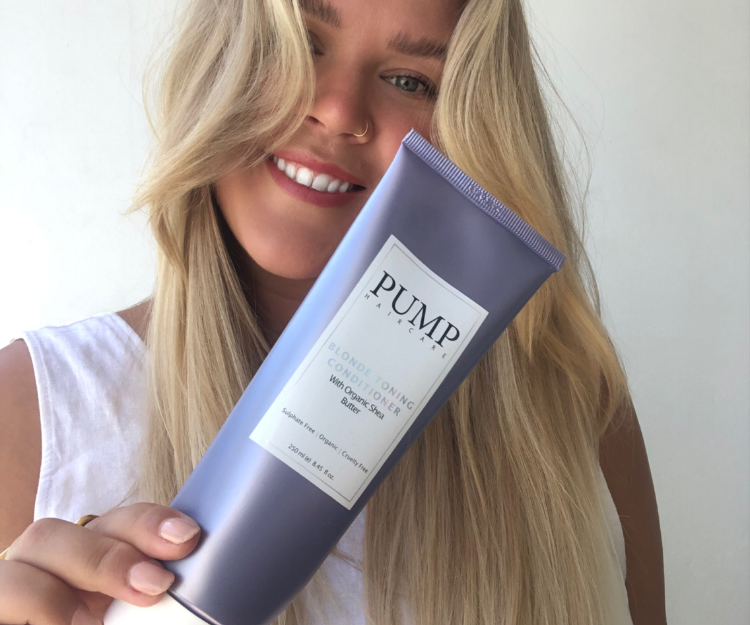 Blonde Hair Conditioner
If you're a natural blonde, colour-treated blonde or have highlights, you've probably heard of this purple conditioner before. But what exactly is purple conditioner, and why is it so popular among those with lighter hair? Let's explore the benefits of using purple conditioner, how it differs from the regular conditioner and why you would consider adding it to your hair care routine if you have blonde locks. We'll also take a closer look at the amazing ingredients in this Pump Blonde Toning Conditioner, how often it should be applied, and when you can expect to see results. So, whether you're a seasoned user or looking to try this conditioner for the first time, read on to discover everything you need to know about this staple hair care product.
The Importance of Conditioner
Using a conditioner is important because it helps to nourish and protect the hair, making it softer, smoother, and more manageable. Conditioner works by coating the hair shaft with a layer of moisturising ingredients that help to seal in moisture, prevent breakage, and protect against damage from heat styling, environmental factors, and chemical treatments. It also helps to detangle hair, reduce frizz, and enhance shine. No matter what colour your hair is, using a conditioner regularly can improve the overall health and appearance of the hair, making it look and feel healthier, stronger, and more vibrant. 
What Makes Conditioner for Blonde Hair Different? 
Blonde hair conditioners have all the great oils, proteins, and silicones needed to smooth the hair cuticle, reduce frizz, and improve manageability. But are also specifically formulated to enhance and maintain the light colour of blonde hair. They contain ingredients like purple pigments or violet dyes that neutralise yellow and brassy tones in blonde hair, making your hair strands look brighter and cooler.

Blonde hair is often more delicate and prone to dryness and damage than other hair colours and can also become brassy or yellow over time due to factors like sun exposure, hard water or chemicals. This is why purple conditioner is ideal for blonde hair, as it addresses these concerns by providing intensive conditioning, nourishment, and maintaining your desired colour. 
What Makes a Great Toning Conditioner?
First and foremost, All Pump Haircare products including our toning conditioner are cruelty-free, vegan, and free of harmful chemicals such as Sulphates, Parabens, Phthalates, Minerals, Petroleum and Oxybenzone.
This is because harsh chemicals and drying ingredients can strip the hair of its natural oils and cause damage, leading to breakage and frizz.
Outside of this, there are a few key qualities we had in mind to ensure our Toning Conditioner is effective: the toning properties, conditioning and moisturising ability, hair colour protection, compatibility with different hair texture types and ease of use. 
Why the Pump Blonde Hair Conditioner Works?
The Pump Blonde Toning Conditioner is a powerful and unique combination of natural and effective ingredients designed to meet each of these vital qualities for healthy bright blonde hair. Here we'll look into these ingredients and share how they impact your hair health!
Toning Properties
There are two key toning agents in this conditioner. The first is CI 60730 which is a purple colourant, that neutralises the common yellow or brassy tones in blonde hair. There is also CI 42090 which is a blue colourant, that counteracts unwanted red or orange undertones. Both work to keep blonde hair bright and vibrant!
Conditioning and Moisturising Abilities
This conditioner is water-based and packed full of rich conditioning agents.
Argania Spinosa Kernel Oil or argan oil has a range of antioxidants and essential fatty acids, which help to repair and protect the hair from damage caused by environmental stressors. It also adds shine and softness to the hair, leaving it looking smooth and detangled.
Butyrospermum Parkii Butter or Shea Butter is a natural moisturiser that softens hair. It's a natural emollient that helps to lock in moisture and prevent dryness and breakage. It also contains vitamins and minerals that nourish and strengthen hair, making it more resilient and healthy.

Colour Protection
Vitamin B5, also known as panthenol, helps to strengthen and thicken hair by nourishing the hair follicles and promoting healthy growth. It has moisturising properties that can help to prevent dryness and breakage, resulting in soft and smooth hair. Vitamin B5 improves hair colour retention and protects against fading. It also helps to improve the overall health of the scalp, which is essential for maintaining healthy hair colour.
Another colour-protecting ingredient is Aloe Barbadensis Leaf Extract, which is typically known for its ability to hydrate and soothe the hair and scalp but also contains vitamins and minerals that can strengthen the hair and improve hair vibrancy.
Compatibility with Hair Types
There are a few main ingredients that work together to make this conditioner beneficial for all hair types. Behentrimonium Chloride and Cetrimonium chloride help to detangle and improve overall manageability. Behentrimonium Methosulfate provides slip and helps to soften rougher textured or dry hair. Then Trideceth-3 makes the conditioner easy to spread throughout your hair. You might not have heard of these ingredients but they are what give this conditioner that silky smooth feeling we know and love. 
Ease of Use
Similarly, Sorbitan Caprylate and PEG-100 Stearate help maintain a consistent and uniform texture, making the toning conditioner easier to apply and able to distribute evenly throughout your hair smoothly. Another notable ingredient is Benzoic Acid which prevents any microbial growth in the product, making sure it's safe and stable to use on your hair long-term.
Our Recommendations
We recommended pairing this conditioner with the Blonde Shampoo to remove any buildup or impurities from the hair. By removing excess oils, dirt, and product buildup through shampooing, the toning shampoo can have better access to your hair, ensuring maximum coverage and optimal toning results. You can use this conditioner as often as needed once or twice a week, to maintain your desired hair colour. 
You can adjust the leave in time depending on whether you're wanting to achieve a stronger or weaker colour result. However, we recommend a leave in time of 3 minutes for best results. If you're a colour-treated blonde, this conditioner may absorb this product easier than natural blonde hair so you may need a little less time! 
Results from using our conditioner can vary depending on the individual's hair type, condition, and usage frequency. Consistent use over time will lead to the best results with reduced brassiness and increased moisture retention. The Pump Blonde Toning Conditioner is a staple for maintaining healthy bright blonde hair!
Read
These ingredients find themselves on our Block-list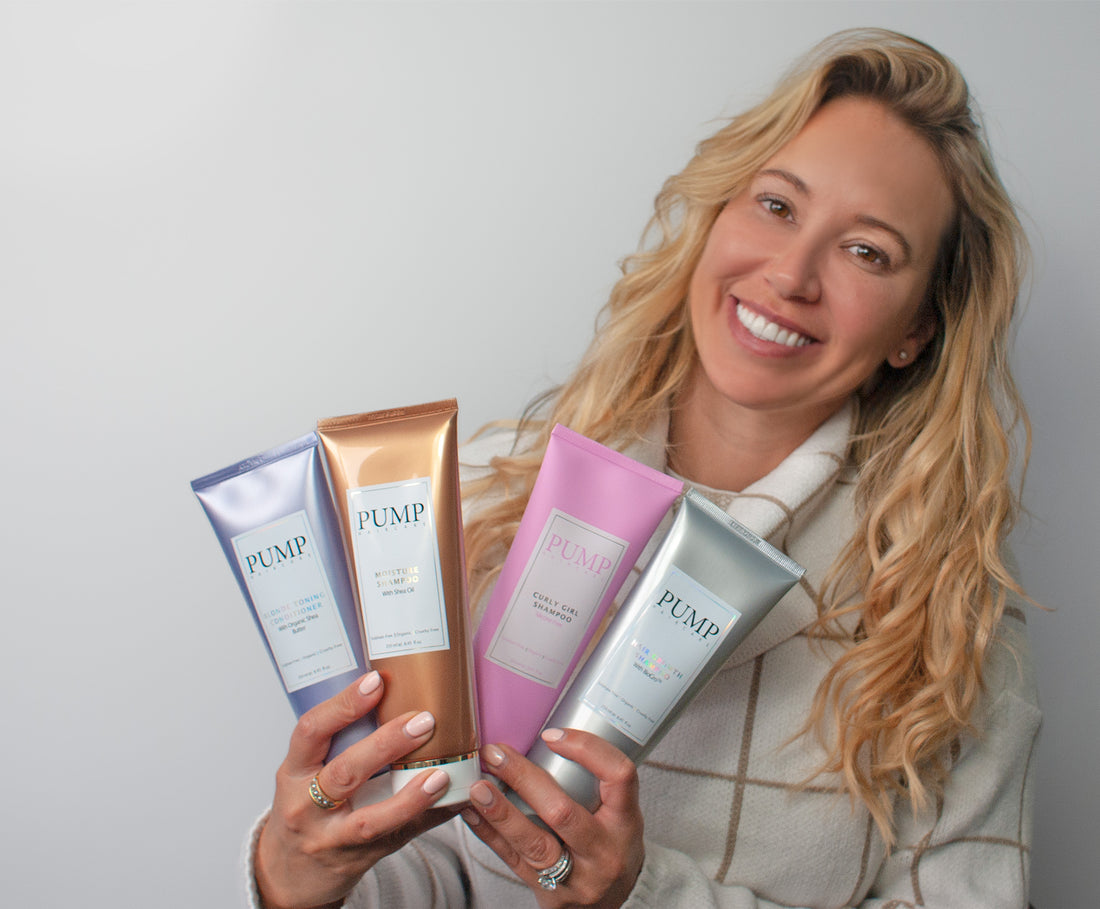 Need help choosing?
Take our hair quiz to get custom recommendations from Pump founder and hair guru, Tash!
Help me choose