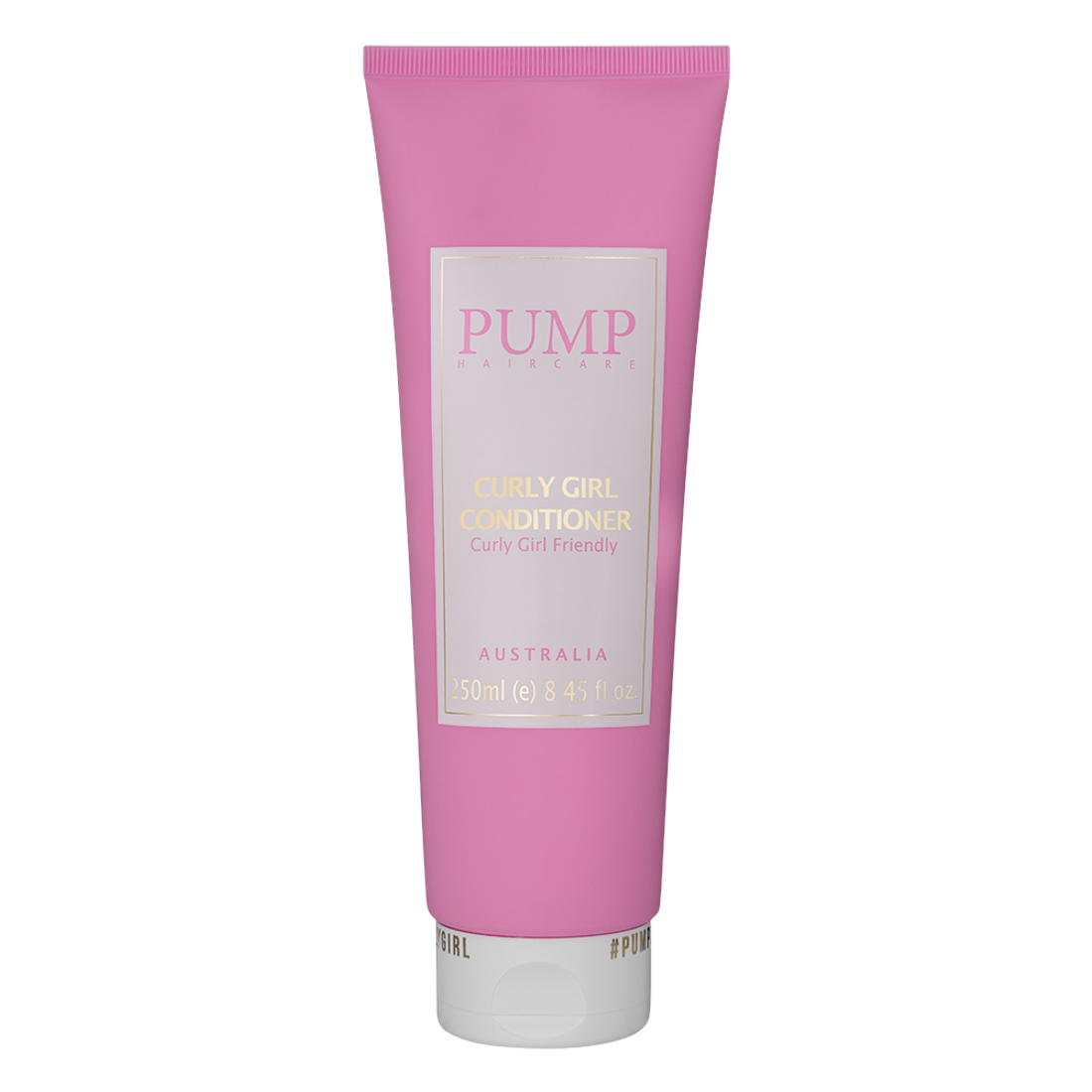 Pump Curly Girl Conditioner
$23.00 USD
Pump Curly Girl Conditioner locks in moisture to hydrate curls. Made with pure Virgin Argan Oil and nourishing Sweet Almond Oil. Free from silicone, drying alcohol, paraben, sulphates and specially designed to enhance your curls. Curly Girl friendly and perfect for co-washing.
How to Use

Apply from mid-lengths to ends. Leave for a minimum of 5 minutes and rinse. If co-washing apply to roots on wet hair, massage through to ends and rinse out with water.

250ml, 8.45 fl oz
Tash's Tips

Can you use it as a leave-in after washing? Yes you sure can! Start with a small amount and add more as necessary.

For knotty prone hair you can use the Pump Detangle Comb in the shower while you have conditioner in.
Ingredients

Aqua, Cetearyl Alcohol, Isopropyl Myristate, Glycerin, Glyceryl Stearate, Behentrimonium Chloride, Behentrimonium Methosulfate, Cetrimonium Chloride, Sorbitan Caprylate, Butyrospermum Parkii Butter*, PEG-100 Stearate, Parfum, Hydrolyzed Soy Protein, Propanediol, Benzoic Acid, Panthenol, Polyquaternium-10, Heptyl Undecylenate, Cocos Nucifera Oil*, Prunus Amygdalus Dulcis Oil*, Benzyl Salicylate, Coumarin, Benzyl Benzoate, Aloe Barbadensis Leaf Extract*, Argania Spinosa Kernel Oil*, Hydrolyzed Rice Protein, Benzyl Alcohol, Potassium Sorbate, Sodium Benzoate. *Organic Ingredients
Shipping Info

All orders are shipped on the same day you place the order, if ordered before 4pm AEST.
Curl Loving Ingredients
Virgin Argan Oil and Sweet Almond Oil nourish and soften curls, while retaining more moisture. Shea Butter deeply nourishes, smooths frizz and seals split ends.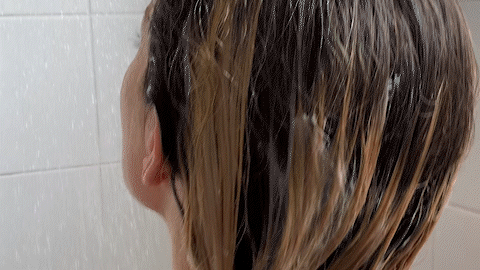 Watch and Learn
Apply this smooth conditioner to your hands and stroke through your mid lengths and ends, leave in for 5 mins. For your cowash - work the conditioner into your hair, emulsifying in the scalp, rinse thoroughly.
Cleansing Conditioner Curly Girl Method  
The pump curly girl conditioner is a weightless, cleansing conditioner created for curly girls looking to reduce frizz, rehydrate dry hair and protect damaged hair. It works on maintaining all curl types, from wavy to coily, this hair product provides the perfect hair care routine to enhance curl definition and shine. 
Co-Washing With Cleansing Conditioner
Co-washing is when you use a conditioner like this one as the primary cleanser instead of using shampoo as it helps to maintain and hydrate curls to retain their natural moisture balance. 
Why a Cleansing Conditioner?
Our conditioner offers a range of exceptional benefits specifically designed to be used as a leave-in conditioner as well for curly girls. Here's why it's the perfect choice for you:
Preserves Natural Oils: Our conditioner delicately cleanses damaged hair and creates a protective barrier without the use of silicones or sulphates, allowing your hair to maintain its essential oils and avoid unnecessary stripping.
Intense Hydration: Say goodbye to dry, thirsty curls! Our conditioner is formulated with deeply moisturising ingredients that provide your hair with the hydration it craves. By effectively sealing in moisture, it ensures that your hair shaft remains nourished and shielded from dryness and damage.
Banishes Frizz: Taming frizz is a top priority for curly hair, and our conditioner is up to the task. By effectively sealing in moisture, it reduces frizz and keeps your curls smooth and defined. Helping with unruly or flyaway strands!
Prevents Split Ends and Breakage: Well-hydrated hair is less prone to split ends and breakage. With our conditioner, you can maintain beautifully hydrated locks, making them more resilient and minimising the risk of damage. Say hello to healthier, stronger curls!
Hassle-Free Hair Care: We understand the challenges of managing curly hair, which is why our conditioner is designed to make your hair care routine a breeze. By keeping your curls defined and well-hydrated, they prevent tangling and make styling easier for longer.
The Star Ingredients
This conditioner for curly girls provides a lightweight formula, using key ingredients: Shea Butter, Hydrolyzed Soy Protein, Hydrolyzed Rice Protein, Sweet Almond Oil, Coconut Oil, Argania Spinosa Kernel Oil and Aloe Leaf Extract which work together to hydrate, seal in moisture, repair and strengthen hair follicles. A perfect balance of proteins and oils to protect your luscious curls from any environmental damage.
Virgin Argan Oil
Virgin Argan Oil is jam-packed with vitamins, essential fatty acids and antioxidants which offer deep moisturisation, reduce frizz and help to revive dry and damaged hair. By having a high concentration of fatty acids, argan oil works to seal the hair follicle. This allows for moisture retention and creates a barrier against heat drying out your hair. It's suitable for all hair types to deeply nourish your hair and acts well as a standalone treatment, check out our signature organic Pump Argan Oil Treatment. 
Sweet Almond Oil
Sweet Almond Oil is a natural, lightweight seed extract that works to deeply nourish and protect all hair types from breakage by containing essential fatty acids, minerals, vitamin E and B12. To incorporate sweet almond oil into your hair care routine, check out our other products containing it. 
Soy and Rice Proteins
Hydrolysed soy and rice proteins are made up of amino acids which are essential to maintaining the structure of all hair types. They contain water-binding markers which soak up and maintain water retention. Our conditioner uses the perfect balance of protein to complement our other ingredients to hydrate, strengthen and boost the hair follicles to improve curl definition. 
Shea Butter 
Shea Butter is a rich and creamy natural fat, extracted from the nuts of a shea tree that helps to retain curly hair. It enhances elasticity by acting as a natural shield against environmental factors, making dry hair more resilient. The benefit of shea butter in this conditioner is to enhance the softness and elasticity of your curls to help reduce frizz, restoring your luscious curls to their natural state. 
Read
These ingredients find themselves on our Block-list
Real People, Real Results
Needing some haircare inspiration? Click and hold to see the before image.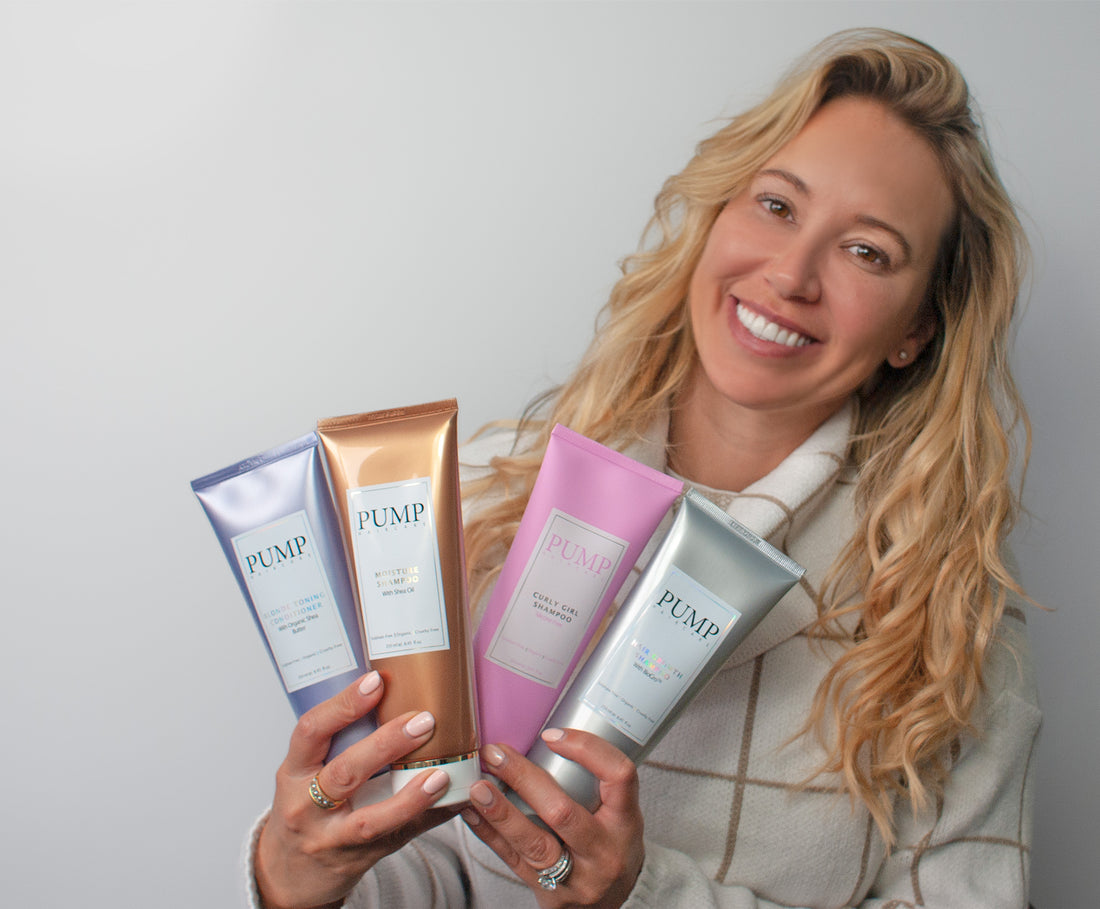 Need help choosing?
Take our hair quiz to get custom recommendations from Pump founder and hair guru, Tash!
Help me choose