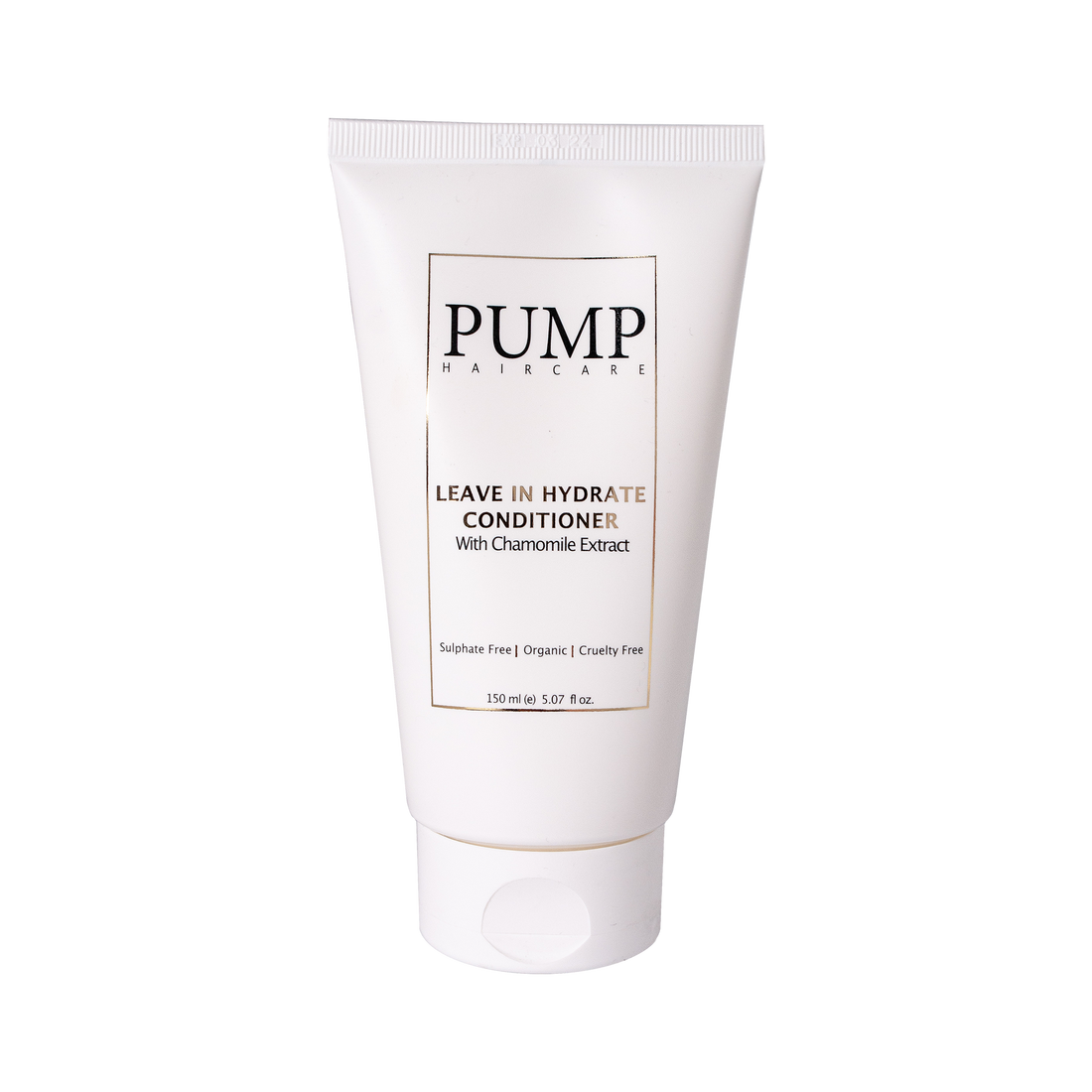 Pump Leave in Hydrate Conditioner
$20.00 USD
Pump Leave in Hydrate Conditioner is a leave-in cream that nourishes hair and restores lost moisture. With Chamomile extracts to nourish hair and seal split ends.
How to Use

Apply a small amount of product onto your hands and apply from mid-lengths to ends, to dry or wet hair. Style as usual.

150ml, 5.07 fl oz
Tash's Tips

For fine hair - use a very small amount and use a comb to help distribute product evenly.

For very dry hair, apply to damp hair for maximum absorbtion and increased hydration.
Ingredients

Aqua, Cetearyl Alcohol, Isopropyl Myristate, Behentrimonium Methosulfate, Glycerin, Argania Spinosa Kernel Oil*, Chamomilla Recutita (Matricaria) Flower Extract, Tocopheryl Acetate, Quaternium-80, Camellia Sinensis Leaf Extract, Hydrolyzed Quinoa, Butylene Glycol, Ethylhexylglycerin, Rosa Canina Fruit Oil*, Natural Fragrance, Potassium Sorbate, Sorbitan Caprylate, Propanediol, Benzoic Acid, Citric Acid. *Organic Ingredients.
Shipping Info

All orders are shipped on the same day you place the order, if ordered before 3pm AEST.
Hydration all day long.
This ultra-lightweight formula locks moisture into the hair all day to prevent frizz and dryness.
Leave in Conditioner For Dry Hair 
We know that there is nothing worse than your hair feeling dry and prone to breakage. That is why we have come up with Pump's leave in conditioner for dry hair – the ultimate nourishing solution that locks in moisture and shields your hair from split ends and breakage. Packed with all the juicy goodness your hair craves, this lightweight conditioner is designed to restore your hair to its natural beauty. No matter what your hair type is, this is the perfect solution to address any dry or frizzy hair concerns you may have without any of the nasties included.
Star Ingredients
At our core, we take immense pride in providing organic, vegan, and cruelty-free hair care products, guaranteeing the utmost care for your hair. To ensure your locks receive the best treatment, we've carefully selected five top-notch, deeply nourishing ingredients for our leave-in conditioner for dry hair. With these premium ingredients, your hair will be rehydrated and fortified against further damage, leaving you with healthy and voluptuous locks.
Rosehip Oil aka Rosa Canina Fruit Oil
Rosehip oil is rich in omega-3 and omega-6 making it the perfect nourishing oil to include in your leave in conditioner for dry hair. Rosehip oil is even known to act as a natural retinol which helps to stimulate hair growth, reducing breakage and thinning. No matter what your hair type is, this is the perfect oil to rehydrate your locks and improve your hair's texture. 
Chamomile Flower Extract aka Chamomilla Recutita (Matricaria) Flower Extract 
Chamomile flower extract contains anti-inflammatory and antimicrobial 
Properties that help soothe and rebalance dry hair. It acts as a natural moisturiser in our leave in conditioner for dry hair, leaving your hair softer and healthier than before. It is suitable to use on colour-treated and chemically processed hair making it the perfect addition to get your dry and frizzy hair back to the luscious locks you've always wanted. 
Argan Oil (aka Argania Spinosa Kernel Oil)
Argan oil is a lightweight oil rich in linoleic and oleic acid known to deeply moisturise and hydrate dry hair. The natural lipids in this magical oil give your hair a natural shine and improve overall hair elasticity by targeting the cracked hair shafts, sealing in the goodness. 
This super nutrient-packed oil is one of our favourites as it is perfect for as a treatment as its own as a post-wash treatment. Or if you want a little extra boost before your wash we recommend the Pre-Wash Hair Growth Oil to really boost your hair. 
Citric Acid 
Citric acid helps to smoothen and seal your hair cuticles, making it easier to comb through your hair without the risk of breakage. Its exfoliating properties work to gently remove dead skin cells from the scalp and product buildup along the hair shaft, promoting a healthier natural shine to your dry hair. Fun fact: It also acts as a natural preservative, keeping all the other components in check as it stabilises the pH balance. 
Hydrolyzed Quinoa 
Hydrolyzed Quinoa proves to be an ideal addition to our leave in conditioner for dry hair, owing to its remarkable benefits in moisture retention, improved hair elasticity and cuticle-smoothing properties. By deeply conditioning the hair shaft, it effectively repairs dry and frizzy hair, nourishing it from within while forming a protective barrier around the cuticles, safeguarding it against moisture loss. Effectively, this also protects any colour treatment you have had done, keeping your beautifully styled locks in tack for longer periods! 
Is it good to use leave in conditioner for dry hair every day? 
How often you use a leave in conditioner depends on a number of factors such as your hair type, how coarse your hair currently is and how often you are exposing your hair to heat. For example, the environmental conditions you are exposed to can increase the breakage and leave you with dry, frizzy hair. 
It is important to consider if you have naturally dry hair, or are dealing with dry hair, it can be beneficial to use a leave in conditioner more frequently. However, once the leave in conditioner for dry hair begins to work its magic, the frequency you will need to use it will decrease. 
Because everyone's hair needs are different, we recommend paying attention to how your hair responds and adjusting the frequency accordingly. If you are unsure where to start, head over to our blog to learn about how to care for dry damaged hair or take our Hair Quiz for guidance on your hair type. 
Read
These ingredients find themselves on our Block-list
Real People, Real Results
Needing some haircare inspiration? Click and hold to see the before image.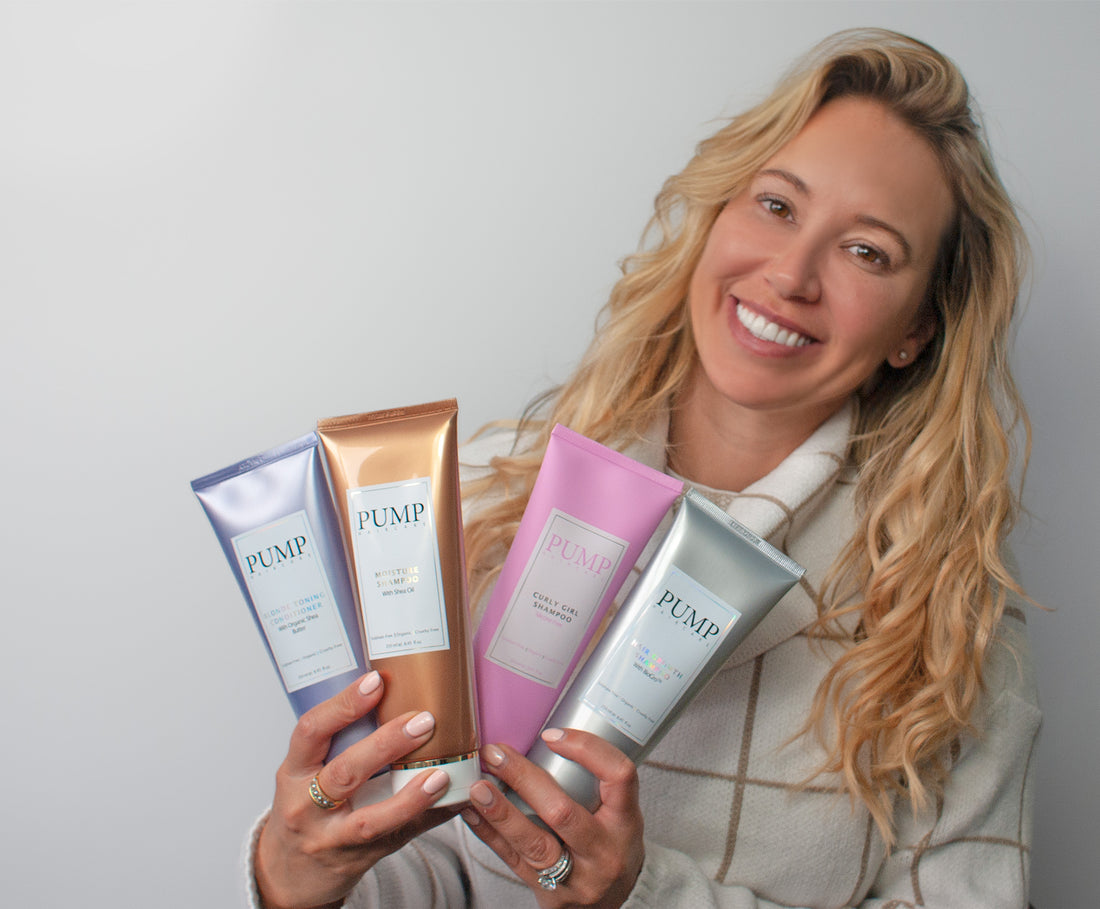 Need help choosing?
Take our hair quiz to get custom recommendations from Pump founder and hair guru, Tash!
Help me choose
Where to next?
Looking for more natural haircare? Find it here!