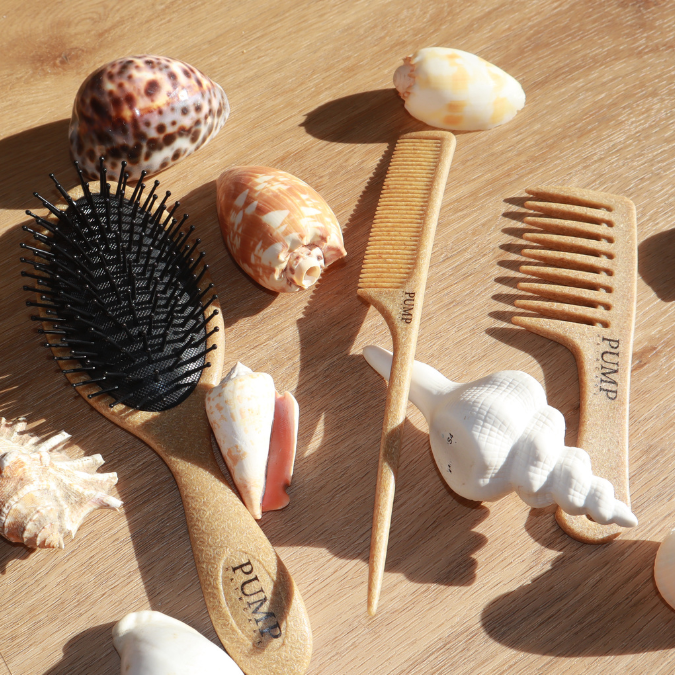 Eco Coconut Brushes
These days, the majority of hair brushes are made of plastic - which means they can break easily and cause unnecessary waste. So the next time you look for a hairbrush, why don't you look for a more sustainable option?

Pump Haircare has you covered with our eco coconut brushes - the perfect addition to your hair care routine. Made from sustainably farmed coconut husk and council-certified recycled rubber, our hair brushes are gentle on your hair and gentle on the environment.

What is an Eco Coconut Brush?
Coconut fibre is a popular alternative to plastics and other materials because it's biodegradable and can be sustainably sourced, with a minimum of 30 million tons of coconut produced in the world each year. A hairbrush made of coconut has all the benefits and versatility of standard hair brushes without the negative environmental impact of plastic hair brushes, which can take hundreds of years to decompose. By making small changes like using an Eco Coconut Brush, we can contribute to a cleaner future.

For All Hair Types
The Pump Eco Coconut Paddle Brush is a popular hairbrush suitable for all hair types. Its benefits include detangling and promoting healthy hair growth. The bristles are 100% plastic free and help to gently massage your scalp and evenly distribute the oils from the top of your hair to your ends. This can help protect your hair, promotes growth and restore shine.

Another advantage of eco-coconut brushes is that they have anti-static properties. This means they can help reduce frizz and flyaways, which can be a common problem for people with dry or damaged hair. If you have damaged, thick, curly or tangled hair and are looking for a comb that prevents breakage, our Pump Eco Coconut Wide Tooth Comb is gentle on the hair, with thicker teeth to remove tangles.

Perfect for Hair Styling
The Pump Eco Coconut Tail Comb and Tint Brush are eco-friendly hair styling tools. The Tail Comb is perfect for sectioning and parting hair, while the Tint Brush is great for dyeing, treatments, and styling. Both are gentle on hair and easy to use, making them a great investment for achieving beautiful, healthy hair.

Want to learn more about our products? Visit our Contact + FAQ page.
Read