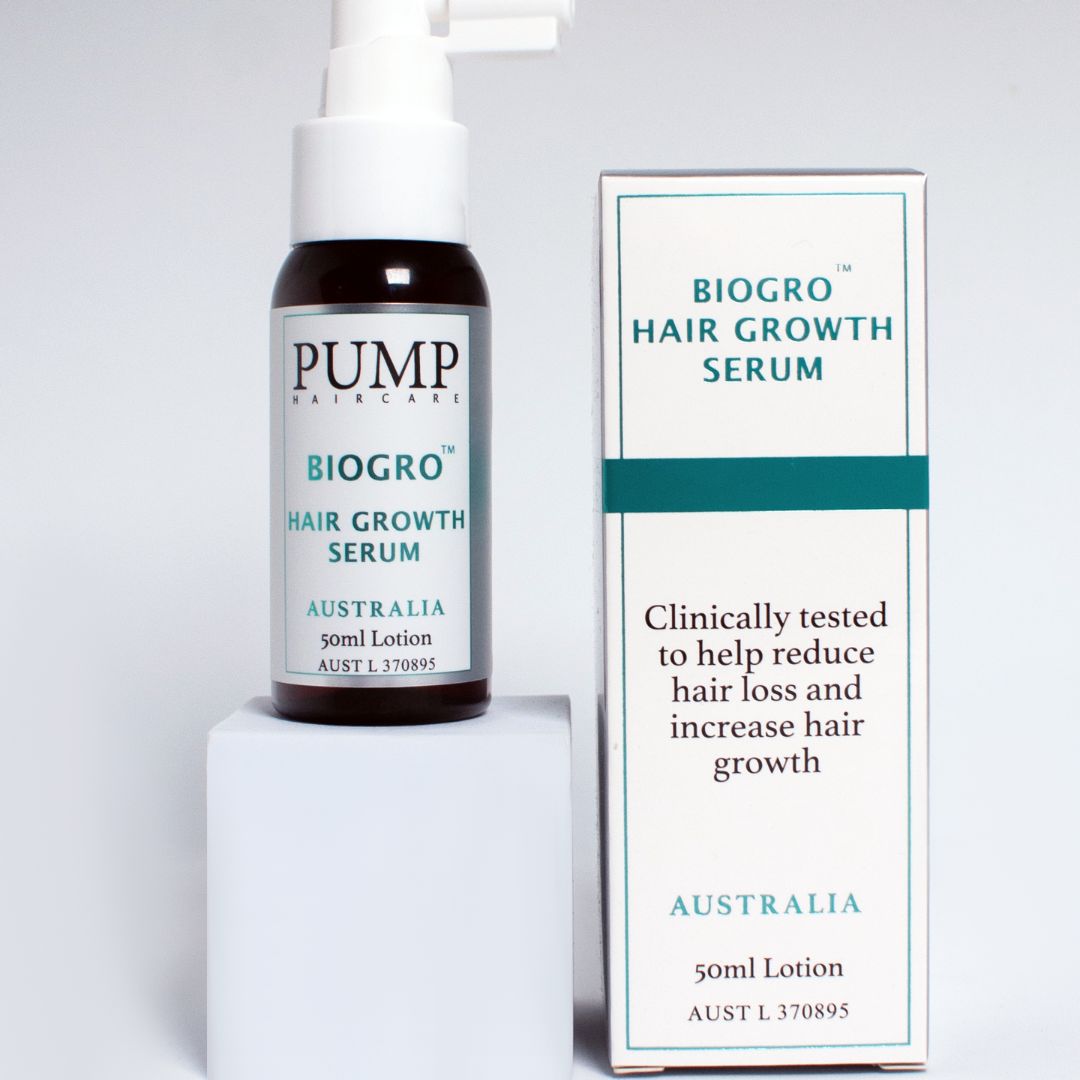 Hair Loss Treatment For Women
Hair loss is completely normal at least half of the population experience hair loss and the average person sheds between 50 to 100 hairs a day!
But as we start to age, our hair starts to get thinner and hair loss can be a difficult process to experience, whether you are just noticing bald spots or slowly thinning hair it can impact your confidence. The best way to approach hair loss is with understanding, knowing the different types of hair loss and how normal it can be will help you reclaim your confidence and discover what treatment options are available. There is a range of causes of hair loss in women include including anything from general aging, androgenetic alopecia, stress, hormones, diet or genetics. We recommend that if you have serious concerns it's always best to talk to a medical practitioner

Hair Loss treatments like those in this Pump range are designed specifically to fight signs of hair loss and thinning while encouraging promoting hair growth with simple and effective natural ingredients that are vegan and cruelty-free. With regular use, you can expect a consistent reduction in hair loss. With trials resulting in an 82% reduction in hair fall!
The Causes Of Hair Loss In Women
Hormonal Changes
When your estrogen and progesterone levels drop, your hair grows at a slower rate and starts to thin. A decrease in these hormones triggers an increase in androgen levels or other male hormones. Androgens shrink hair follicles, which may cause an individual to lose hair. Hormone levels fluctuate naturally but this type of hair loss is more common around pregnancy, menopause, puberty or for those with imbalances or thyroid diseases.  
Stress
Both short-term and chronic stress can trigger increased cortisol levels, which can lead to hair loss. A common type of hair loss condition is called Telogen effluvium, where the stress levels send your hair follicles into a shedding phase, causing more hair fall. Fortunately, this condition is only temporary, however, it's advised that you visit your doctor if you're experiencing stress-related hair loss. Stress is another normal emotion we deal with in day-to-day life it's not just the big moments like childbirth, traumatic events or illness that cause stress. That's why implementing self-care practices like massaging a hair treatment into your scalp and using a derma roller can be so impactful not just for treating hair loss but for helping you have peaceful moments in your day.
Getting An Adequate Amount Of Sleep 
Sleep is essential for your overall health, and it's no surprise that your hair is no exception. A lack of restorative sleep can lead to increased hair shedding and weakened hair structure. Our expertly formulated products work while you sleep, ensuring your hair gets the nourishment it needs to stay strong and resilient. Incorporate our hair loss treatments into your routine before bed to give your hair a boost no matter how much sleep you can get.
Iron or Biotin Deficiency
Both iron and biotin deficiencies are other less common causes of hair loss, as they can lead to reduced oxygen and nutrient flow to the hair follicles. Our nutrient-rich hair loss products are infused with essential minerals and vitamins, including those that support biotin levels, to boost your hair's vitality and promote growth. The Pump Mermaid Hair Growth Vitamins have D-Biotin a B vitamin that can be essential for nutrient uptake around your body.
Hair Styling & Aging  
Constantly styling your hair can cause hair breakage and patchy hair loss, with constant and frequent tension or pulling on your hair strands. This can damage your hair follicles. As we have said before, hair loss due to aging is completely normal, as the rate of hair growth slows down with time. Hair strands also become smaller and have less pigment making you more prone to breakage and shedding. By actively treating your scalp and hair loss can help minimise the impacts of everyday styling and natural aging hair loss to help your hair maintain a youthful strength, no matter the state of your hair. Our products target weakened hair follicles to rejuvenate and restore the hair's natural vitality.
The Best Hair Loss Treatment Australia 
Discover the best hair loss treatments Australia has to offer with our scientifically-backed formulas. We take pride in using high-quality, naturally sourced ingredients to provide you with effective, gentle solutions for hair loss. 
Hair Loss Treatment for Women With Sensitive Scalps
Treating hair loss with a sensitive scalp can be tricky to navigate, as you don't want to irritate your scalp. Both our hair growth and hair loss treatment for women product ranges are designed for those with sensitive skin in mind. Using mild, natural hair, skin and scalp-friendly ingredients such as almond, argan, jojoba, rosemary oil and other natural extracts. All of the Pump products are formulated with active botanical extracts and no nasties.
Just like with any new product, it's always a good idea to perform a patch test before using the Pump Hair Loss Treatment, as everyone's skin can react differently. 
Hair Loss Treatments Explained
Embarking on the quest to conquer hair loss can be an overwhelming experience, but fear not, for we are here to guide you. Our Hair Loss Treatments Explained section delves into the complexities of various solutions, shedding light on the unique advantages of each treatment, from our popular rejuvenating topical serum to our nourishing hair growth vitamins and medical-grade derma roller tool. By exploring the science behind these hair loss treatment innovations, we hope to equip you with the knowledge necessary to make informed decisions about your hair care regimen. Armed with this understanding, you can confidently select the ideal solution tailored to your individual hair loss hair needs and routine preferences.
The Pump Hair Loss Treatments 
The Pump BioGro Hair Growth Serum is a ground-breaking, fast-acting formula meticulously crafted to stimulate hair growth at the follicle level. Harnessing the power of natural ingredients, this remarkable serum is infused with our exclusive BioGro™ technology, a cutting-edge blend of botanical extracts that promotes hair strength and density. By incorporating the BioGro Hair Growth Serum into your daily hair care routine, you can expect to witness a stunning transformation as your hair becomes noticeably thicker, healthier, and more resilient.With trials resulting in an 82% reduction in hair fall! If you are stocking up on this best-seller product, sneak a peek at our Pump BioGro Serum Trio to get 3 months worth of supply!
Elevate your hair growth journey from the inside out with our Pump Mermaid Hair Growth Vitamins. These premium daily supplements feature a potent mix of essential nutrients, including D-Biotin, Ashwagandha root Extract, and Biota Orientalis Extract, meticulously formulated to promote a healthy scalp and improved hair thickness. By fortifying your hair from within, the Mermaid Hair Growth Vitamins empower you to achieve the lustrous, voluminous locks you have always dreamed of. 
Unlock the full potential of your hair growth products with our revolutionary Pump Derma Hair Growth Roller. This innovative tool employs micro-needling technology to invigorate blood flow to the scalp, amplifying the absorption of hair growth treatments and ensuring that your hair receives the optimal nourishment it deserves. Derma rolling also stimulates and increases the production of collagen, which improves the thickness and density of the hair follicles. By incorporating the Derma Hair Growth Roller into your hair care routine, you will experience a remarkable enhancement in your hair's health, thickness, and overall vitality. This derma roller is a clinically tested medical device and should be used once a week on your scalp after washing.
Dive into our Hair Loss Treatment collection and take the first step towards reclaiming your confidence and embracing your hair. With Pump Hair Care, your journey towards healthier, stronger hair has never been more exciting or achievable. Have any extra questions about our hair loss products? Visit our Contact and FAQ page for more information. 
Read
HAIR GROWTH

Hair loss is completely normal at least half of the population experience hair loss and the average person sheds between 50 to 100 hairs a day!But as we start to age, our hair starts to get thinner and hair loss can be a difficult process to experience, whether you are just noticing bald spots or slowly thinning hair it can impact your confidence. The best way to approach hair loss is with understanding, knowing the different types of hair loss and how normal it can be will help you reclaim your confidence and discover what treatment options are available. There is a range of causes of hair loss in women include including anything from general aging, androgenetic alopecia, stress, hormones, diet or genetics. We recommend that if you have serious concerns it's always best to talk to a medical practitionerHair Loss treatments like those in this Pump range are designed specifically to fight signs of hair loss and thinning while encouraging promoting hair growth with simple and effective natural ingredients that are vegan and cruelty-free. With regular use, you can expect a consistent reduction in hair loss
test

test
hgghk

vbmm