Pump Blonde Shampoo
$24.00 USD
Pump Blonde Shampoo keeps the yellow out of your blonde, extending the life of your colour without needing a toner between salon visits.
Silicone-free, Paraben-free, Sulphate-free.
How to Use

Wet hair with lukewarm water until fully soaked. Apply a very small amount of shampoo to your palm and rub together in your hands. Massage shampoo directly to your roots, avoid rubbing it onto the ends of your hair. Leave on for 3-4 minutes to allow the toning to work. Rinse thoroughly and apply conditioner.

250ml, 8.45 fl oz
Tash's Tips

Be sure to have a regular shampoo on hand for those washes where you don't need extra toning.

You may only need to use the Blonde Shampoo once a week or every 2nd wash. Adjust your leave in time for a stronger or weaker colour result. If your hair is colour treated it will take to the toning much easier than natural hair.
Ingredients

Aqua, Sodium Lauroyl Methyl Isethionate, Cocamidopropyl Betaine, PEG-12 Dimethicone, Peg-150 Distearate, Sorbitan Caprylate, Parfum, Tetrasodium EDTA, Hydrolyzed Soy Protein, Polyquaternium-10, Propanediol, Benzoic Acid, Panthenol, CI 60730, Linalool, Hexyl Cinnamal, Argania Spinosa Kernel Oil*, Benzyl Alcohol, Aloe Barbadensis Leaf Extract*, Potassium Sorbate, Sodium Benzoate.

*Organic Ingredients
Shipping Info

All orders are shipped on the same day you place the order, if ordered before 4pm AEST.
Fresh-from-the-salon kinda Blonde.
After just one wash with the Pump Blonde Shampoo and Conditioner, you'll notice cleaner, brighter blonde tones!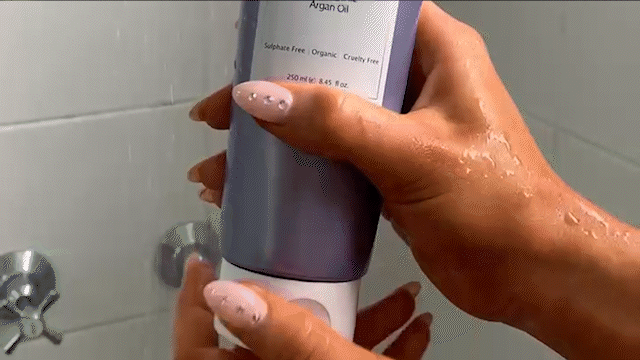 Watch and Learn
Massage a small amount of shampoo into your roots, work into a cleansing lather and leave this for a few minutes to reach your desired result.
Pump Shampoo for Blonde Hair
Pump's shampoo for blonde hair is formulated with enriching ingredients such as argan oil and aloe vera, paired with deep violet pigments to counteract any unwanted yellow or brassy tones. It is sulphate-free and offers your hair a nutrient boost to help soothe your dry and damaged strands. We highly recommend pairing it with our Blonde Toning Conditioner for optimal results. 
Benefits of using a specialised shampoo for blonde hair 
Whether you're a natural blonde aiming to conceal grey hairs or have undergone chemical hair treatments, choosing an appropriate toning shampoo enriched with nutrient-supporting properties can significantly enhance your hair. Blonde hair requires additional support from nourishing and protective ingredients to counterbalance the damage from chemical treatments. When choosing the ideal toning shampoo for your hair, prioritise ones that incorporate natural oils, hydrating proteins, and non-drying properties in their formulations. That is why we have carefully formulated our shampoo for blonde hair to give your hair the support and nourishment your blonde locks deserve.
Star Ingredients 
We've broken down all the juicy benefits of the star ingredients in our shampoo for blonde hair: 
Argan Oil 
Argan oil is a deeply nourishing and protective natural oil that reduces the risk of damage by forming a protective layer around the hair shaft and attracting moisture, leaving your hair softer and free of frizz. Rich in essential fatty acids and antioxidants, argan oil coats the hair follicle, shielding it from environmental stressors like UV rays and pollution. You can also use argan oil as a pre-wash treatment or pre-heat-styling oil to tame flyaways. It's one of our favourite organic oils to date and comes highly recommended by our hair care experts. 
Aloe Vera Extract 
Aloe Vera earns its spot on the list for its moisturising and soothing properties, which benefit the scalp and overall hair health. Chemical treatments can dry out and irritate the scalp, and aloe vera helps alleviate discomfort by balancing the scalp's pH levels. 
Hydrolyzed Soy Protein
Incorporating a plant-based protein into your hair care routine strengthens the hair structure and supports the dry hair shaft. This is crucial, especially for those who have undergone chemical treatments, as the hair cuticles become more fragile from bleaching. These proteins are broken down for better absorption into the hair follicles, effectively strengthening your hair structure. 
Panthenol (Provitamin B5) 
Panthenol functions as a humectant, which means it can draw in and hold moisture. As panthenol permeates the hair shaft, it causes temporary expansion, resulting in the appearance of thicker and more voluminous hair. This effect not only enhances the visual density of your hair but also contributes to maintaining proper hydration, while simultaneously safeguarding it from further damage. This protective function occurs as panthenol forms a barrier around the damaged hair shaft.
Read
These ingredients find themselves on our Block-list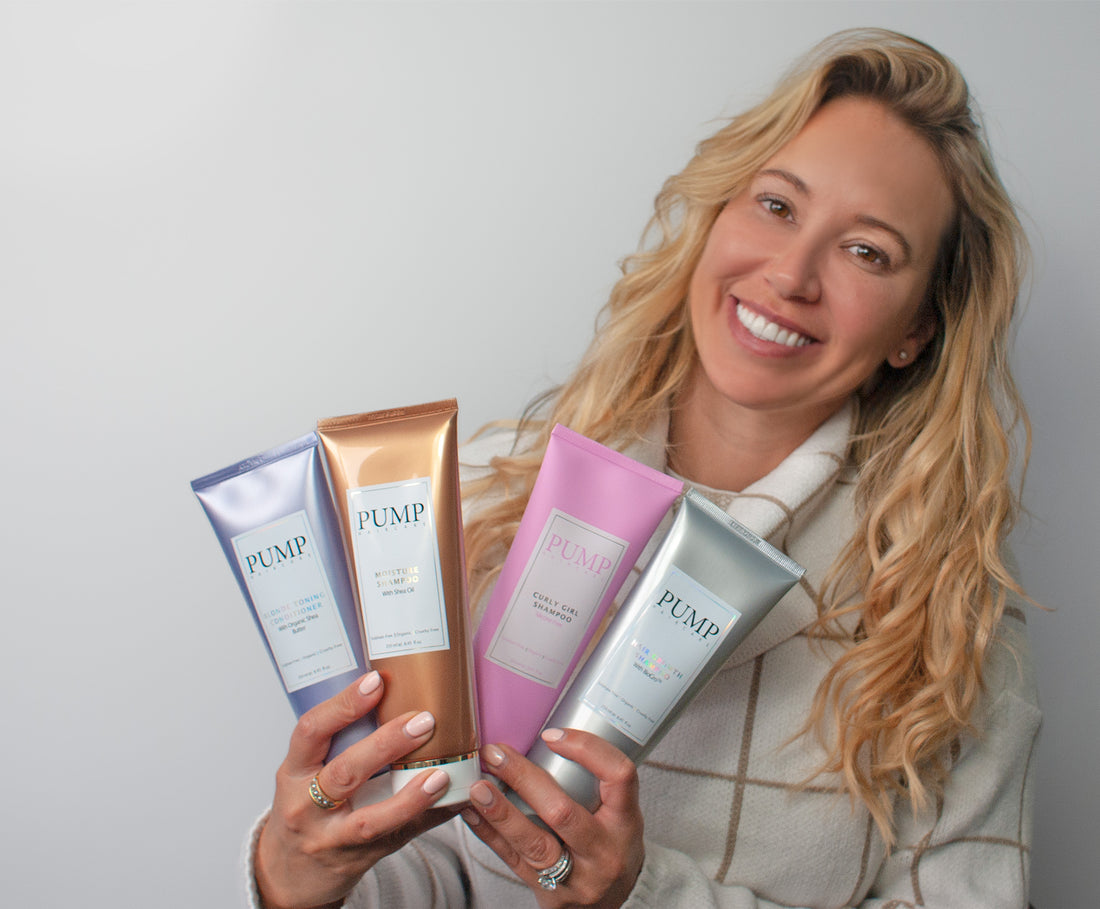 Need help choosing?
Take our hair quiz to get custom recommendations from Pump founder and hair guru, Tash!
Help me choose