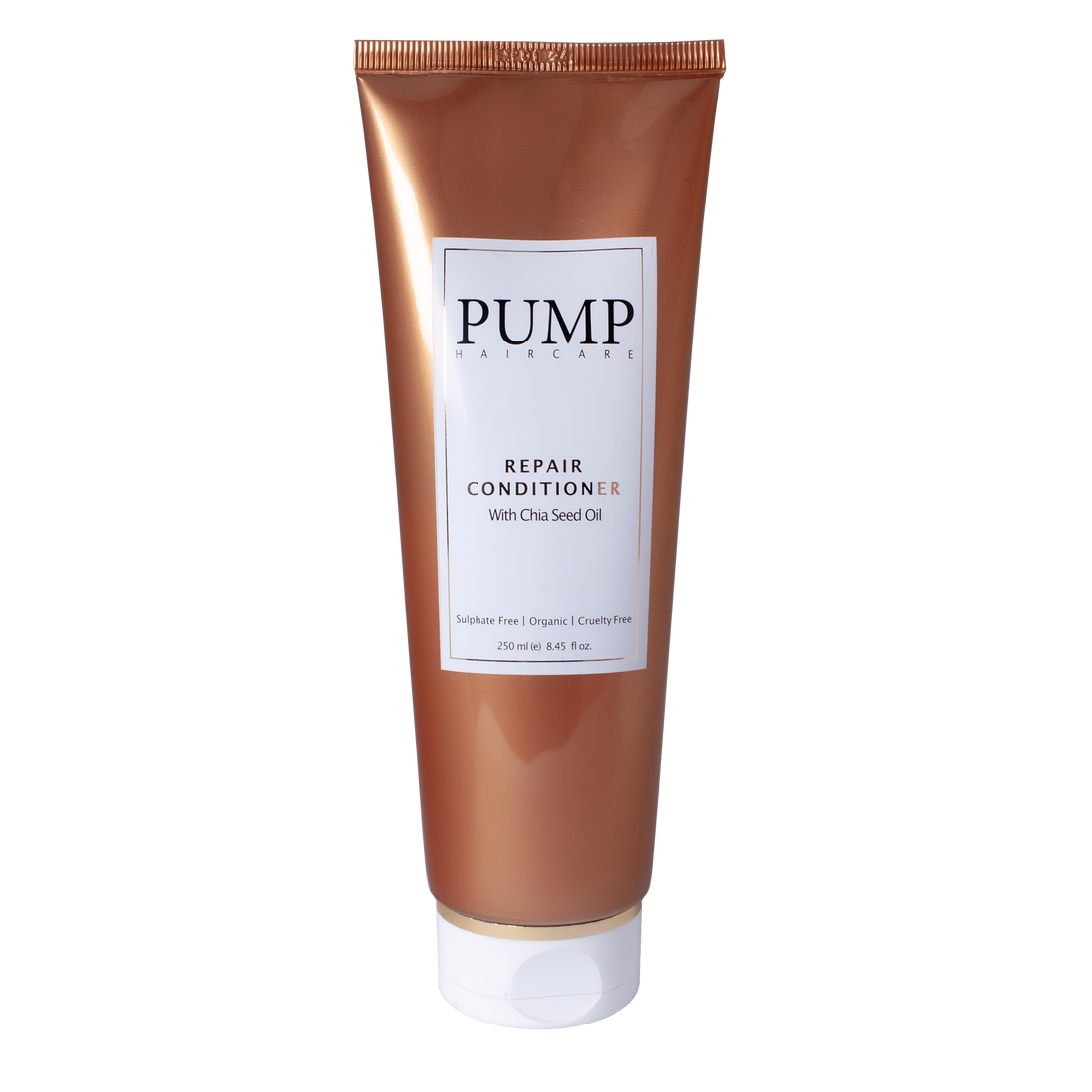 Pump Repair Conditioner
$23.00 USD
PUMP Repair Conditioner aims to repair hair damaged by colour, chemical processing or heat styling. Infused with Chia Seed Oil, this conditioner provides moisture and elasticity with long lasting results.
Key ingredients: Sweet Almond, seals and protects hair from future breakage. Shea Butter improves hair elasticity and hydrates with fatty acids. Argan Oil softens hair while treating split ends and preventing frizz. Aloe is a healing ingredient and immediately improves hair texture while adding shine.
How to Use

After washing with shampoo, remove excess water from hair. Distribute evenly throughout hair, concentrating on mid-lengths and ends, leave for 5-10 minutes then rinse thoroughly.

250ml, 8.45 fl oz
Ingredients

Aqua, Isopropyl Myristate, Cetearyl Stearate, PEG-20 Stearate, Glycerin, Behentrimonium Methosulfate, Behentrimonium Chloride, Cetrimonium Chloride, Butyrospermum Parkii (Shea Butter)*, Panthenol, Aloe Barbadensis Leaf Extract, Argania Spinosa Kernel Oil*, Hydrolyzed Rice Protein, Hydrolyzed Soy Protein, Prunus Amygdalus Dulcis (Sweet Almond) Oil *, Natural Fragance, Tocopheryl Acetate (Vitamin E), Salvia Hispanica (Chia) Seed Extract, Sorbitan Caprylate, Propanediol, Benzoic Acid, Benzyl Salicylate, Coumarin, Lilial, Benzyl Benzoate. *Certified Organic.
Shipping Info

All orders are shipped on the same day you place the order, if ordered before 3pm AEST.
Strengthen and Repair.
Mend damaged hair and split ends with this ultra-nourishing conditioner.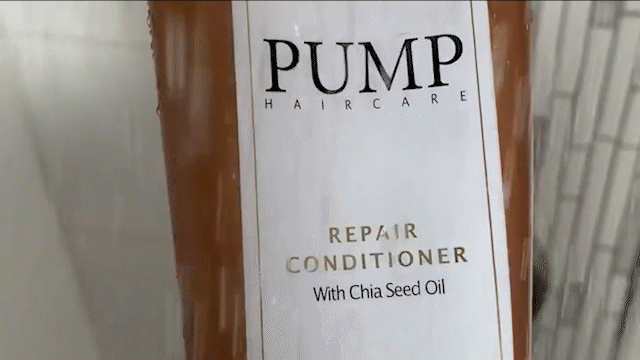 Watch and Learn
Work the conditioner through the mid lengths and ends of your hair, avoiding the roots. Leaving on for 5-10 minutes will leave your hair feeling restored and hydrated!
Conditioner for Dry Hair 
Pump's repair conditioner for dry hair is a nutrient-dense and amino acids packed hair conditioner for all hair types. Designed to protect, repair and nourish your dry damaged hair, leaving it moisturised and healthy. 
What causes dry hair? 
If you have naturally curly, frizzy or coarse hair you are more prone to dry hair as the natural oils produced from your scalp have trouble getting to the roots of your hair shaft. Environmental factors, heat styling, overwashing, chemical treatments or having an improper hair care routine can all contribute to dry damaged hair as well.
What are the consequences?
Having dry hair leads to split ends, breakage, frizzy texture and a reduction in overall appearance as the natural oils and lack of moisture can make your hair more susceptible to damage. Of course, we know that heat styling and chemical treatments are something we all love to do to feel our best so it is not about stopping altogether but rather implementing a proper hair care routine to keep your hair and you feeling and looking your best! Incorporating Pump's repair conditioner for dry hair into your hair care routine will help to restore your hair to a vibrant and natural state. 
Healthy Hair Care Practices 
Although hair dryness is sometimes due to your hair type and environmental factors out of your control, there are a number of hair care steps you can take to keep your hair healthy and protected. If you're after an in-depth breakdown of how to care for your damaged dry hair check out our blog, otherwise here are top quick tips for healthy hair care practices. 
Frequency and temperature:
Every hair type produces different amounts of natural oils so how often you wash your hair will vary but it is best to give your hair some time between washes to get back to its natural state. To get a better understanding of what your hair needs, take our Hair Quiz. Washing your hair with lukewarm to cold water will also further protect your hair from additional heat damage. 
Consistency:
Being consistent with using Pumps repair conditioner for dry hair will help to increase moisture levels through its deep conditioning effects and allow for your dry strands to really feel the benefits of this hydrating conditioner over time. 
Hydrating conditioner: 
When deciding on what conditioner to use for your hair care routine, it is important to make sure that it has the proper ingredients to protect, nourish and moisturise your hair shafts. The key ingredients which make up a hydrating conditioner are humectants to attract and retain moisture, proteins and amino acids to improve hair elasticity and natural oils packed with vitamins to nourish your hair. That is why Pump's repair conditioner for dry hair has included these top ingredients to offer you the perfect hydrating conditioner for your hair type. 
Secret Ingredients 
Provitamin B5 (aka Panthenol) 
Provitamin B5 acts as a humectant to attract and retain moisture when applied in Pump's conditioner for dry hair.  As Provitamin B5 is a powerful moisturising nutrient, it is able to deeply penetrate damaged hair's cortex and form a thin protective layer around the hair shaft. This helps to attract and maintain moisture back into dry damaged hair, protecting it from further heat damage or environmental stressors. 
Hydrolyzed Rice and Soy Proteins 
Hydrolyzed rice and soy proteins contain essential amino acids that work together as a deep conditioning for dry damaged hair by providing the hair cuticle with the necessary nutrients to reduce frizz and increase overall elasticity, moisture levels and appearance. It is used in Pump's conditioner for dry hair to improve hair texture and make all hair types easier to style and maintain a healthier appearance. 
Vitamin E (aka Tocopheryl Acetate)
Vitamin E is used in Pump's conditioner for dry hair as it is a strong antioxidant that helps to neutralise damaging free radicals such as UV, pollution, and chemical treatments that dry strands and cause heat damage to all hair types. It also improves circulation and dilates blood vessels which supply nutrients and oxygen to the hair follicles, improving overall hair feel and growth. For more products containing this super antioxidant click here. 
What to pair it with? 
Pump's conditioner for dry hair works best when paired with a friend or two, that is why we suggest our  Pump Repair Trio, a quick 3-step routine, to pack your hair with all the nutrients and moisture it needs to stay vibrant. 
Read
These ingredients find themselves on our Block-list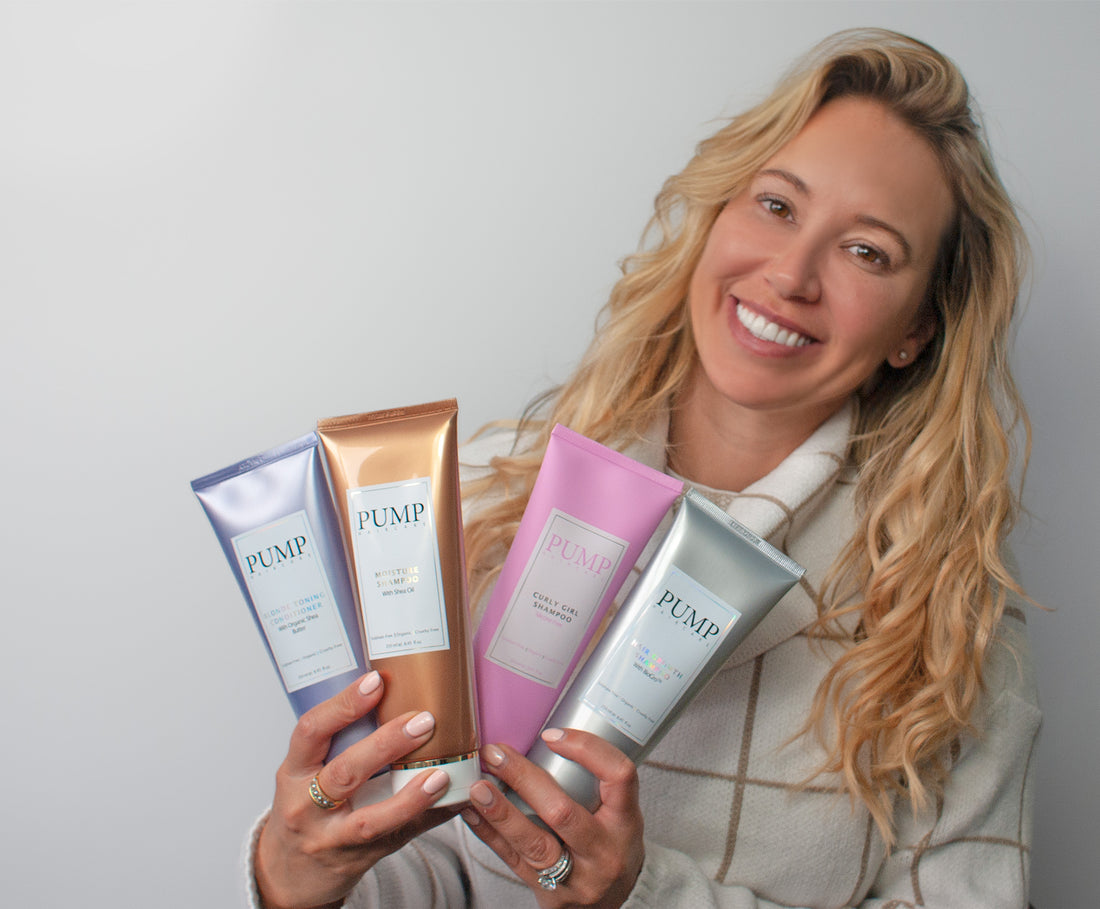 Need help choosing?
Take our hair quiz to get custom recommendations from Pump founder and hair guru, Tash!
Help me choose
Where to next?
Looking for more natural haircare? Find it here!