Pump Repair Trio
$66.00 USD
Nourish and protect dry, damaged and colour treated hair with The Pump Repair Trio. A quick 3 step routine to help put the lost moisture back into your hair leaving it feeling softer and less frizzy.
What's Included

Pump White Display Bag
How to Use

Massage the shampoo into your roots, only, repeat if necessary. Rinse thoroughly and apply conditioner to mid-lengths and ends for 5-10 minutes.

Spray the Moisture Leave In, evenly onto towel dried hair. Can be applied to dry hair.
Shipping Info

All orders are shipped on the same day you place the order, if ordered before 3pm AEST.
Dry Hair Shampoo and Conditioner
Whether you have a dryer texture or are looking to nourish your hair back after a colour treatment, we have got the pack just for you. Our dry hair shampoo and conditioner treatment pack work together to deeply nourish your dry and textured hair. Save yourself the hassle of trying to find products that complement one another with this one-stop pack designed to leave your hair moisturised and healthy. 
How can Pump Repair Trio help improve dry hair?
Pump's repair trio is ideal for improving dry and textured hair each of the products included are specifically designed to give your hair the attention it deserves, leaving you with softer, more manageable, and beautifully rejuvenated locks. If you are just starting to treat your dry hair, we recommend having a quick read of our blog on How to care for dry damaged hair. 
Here is a quick breakdown of what each product has been designed to do:
Shampoo for Dry Hair
Pump's shampoo for dry hair is a deeply moisturising shampoo that gently targets the scalp and hair cuticles without causing further dryness to the hair shafts. It is packed with shea oil to keep those locks moisturised and healthy. 
Conditioner for Dry Hair
Pump repair conditioner for dry hair is packed with chia seed oil, almond oil, shea butter and argan oil which all work to soften the hair texture and improve elasticity. When used in conjunction with our hydrating shampoo, it creates the perfect environment for your dry hair to regain its texture and health.
Hydrating Spray for Dry Hair
Pump's Moisture Hydrate Spray is the crowning jewel of our collection, providing your dry hair with an invigorating boost. This leave-in conditioning spray deeply nourishes your locks, leaving them feeling revitalised and moisturised. It doubles as a detangling spray, safeguarding your hair from further breakage and knots. 
Star Ingredients
We've selected products with the best nourishing and hydrating oils for you to get your hair's natural shine and texture back. Curious about what each of these nutrient-packed oils does? Here is a quick run-through. 
Shea Oil 
Similar to shea butter, shea oil is a powerful antioxidant-rich oil, bursting with essential nutrients that give it its emollient properties. By smoothing the hair cuticles and attracting moisture, it works wonders in reducing tangles and preventing breakage. In our hydrating shampoo, shea oil plays a crucial role in soothing the scalp and alleviating dryness, providing an ideal environment for your hair to flourish and grow beautifully.
Chia Seed Oil 
Chia seed oil is an omega-3 fatty acid-packed oil that works to deeply moisturise and seal the hair cuticles, enhancing shine and texture. It helps to tame frizzy hair by its proteins protecting the hair shaft from becoming weak and dry. Our hydrating conditioner deeply nourishes, improving the overall texture of dry hair. 
Jojoba Seed Oil 
Jojoba Seed oil is a lightweight oil, rich in vitamins and minerals. Its 
emollient properties help to reduce frizz and provide nourishment back into the hair follicles without causing further friction between hair strands, making it the ideal ingredient to include in our hydrating and moisturising spray. 
Read
These ingredients find themselves on our Block-list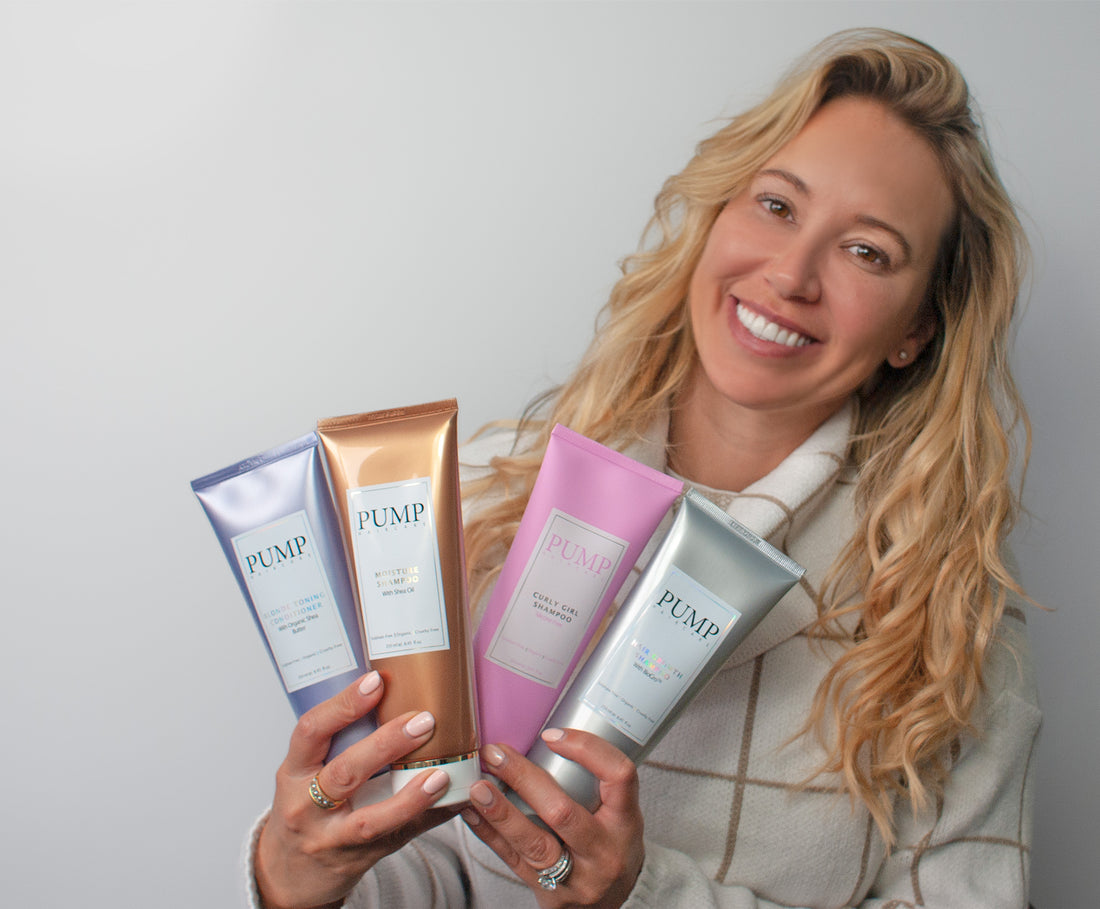 Need help choosing?
Take our hair quiz to get custom recommendations from Pump founder and hair guru, Tash!
Help me choose
Where to next?
Looking for more natural haircare? Find it here!